Holden's 50,000th VF Commodore has rolled off the assembly line at Elizabeth, South Australia on Friday, signifying a major milestone for the car manufacturer.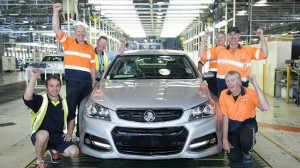 The 50,000th car is a 'Nitrate' Silver Commodore SV6 sedan, which is going to a private customer in the Lansvale Holden Dealership in Sydney's southwest.
In a media release Holden Executive Director – Manufacturing, Richard Phillips, said he was particularly proud of what had been achieved with the VF at the Elizabeth plant.
"The VF is quite simply the best quality car Holden has ever built, and to see the 50,000th one roll off the line is a milestone everyone is very proud of," Mr Phillips said.
The VF is considered by Holden to be the most technologically advanced car ever made in Australia, with a manufacturing process that uses an aluminium bonnet and boot lid, which saves 10.4 kg compared to conventional steel pressings. This offers significant weight and fuel economy savings without compromising on strength. The model also boasts a number of other advanced fuel economy enablers, including electric power steering and aerodynamic improvements, according to the company.
"Achieving the 50,000 build milestone in just 10 months highlights the popularity of the world-class Commodore. Australians continue to vote with their wallets when it comes to the VF, with 2,777 sales in February alone — an increase of 60 per cent year-on-year and almost 52 per cent year-to-date," according to the statement.
Commodore is Holden's longest-standing and most successful nameplate, which has graced 15 model series since its introduction in 1978.