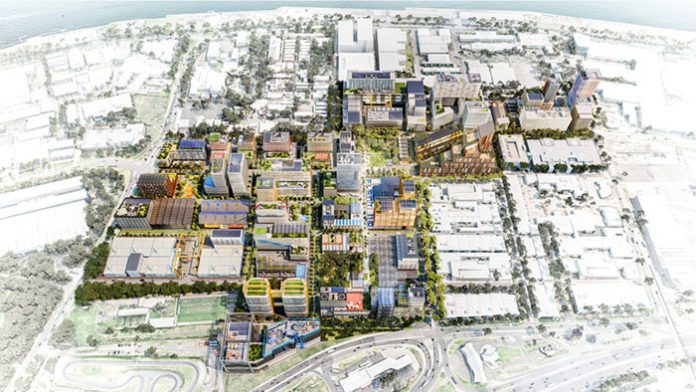 The Victorian Government announced a $179.4 million funding package to kick-start the Fishermans Bend Innovation Precinct at the former General Motors Holden (GMH) site.
The investment will support stage one of the Fishermans Bend Innovation Precinct development, which involves remediation of former GMH site and the installation of crucial infrastructure and service over three years.
Minister for Business Precincts Martin Pakula said the investment will fund a major transformation and renewal of the 32-hectare site, creating an investment-ready, world-class, advanced manufacturing, engineering and design precinct and unlocking developable land capable of supporting 2,000 jobs by 2024.
"The old Holden factory is part of Victoria's manufacturing history. This important first step will help transform it into Victoria's manufacturing future," Mr Pakula continued.
"We're creating the foundations for a world-leading hub for ideas, innovation and 21st century industry – it's an investment in jobs and the people of Victoria."
The precinct will encourage collaboration between industry and academia, with the University of Melbourne to open a new engineering campus at Fishermans Bend in the near future.
According to the Minister, it will also drive private sector investment and see key industry players and education and research organisations work together to grow the state's advanced manufacturing capacity and create thousands of high value jobs.
"Fishermans Bend will house the University of Melbourne's School of Engineering from 2024 and the innovation precinct is forecast to be capable of supporting up to 30,000 STEM jobs by 2051," Mr Pakula said.
"The precinct will cement Victoria's status as a powerhouse of advanced manufacturing and support high-paid innovation jobs in defence, aerospace, clean energy and transport.
"It will also strengthen our state's capacity to commercialise new ideas and foster new business ventures."
According to Mr Pakula's statement, as many as 300 people will work on the project at any one time, with close to 700 indirect jobs also supported.
Image credit: https://www.fishermansbend.vic.gov.au/precincts/innovation-precinct