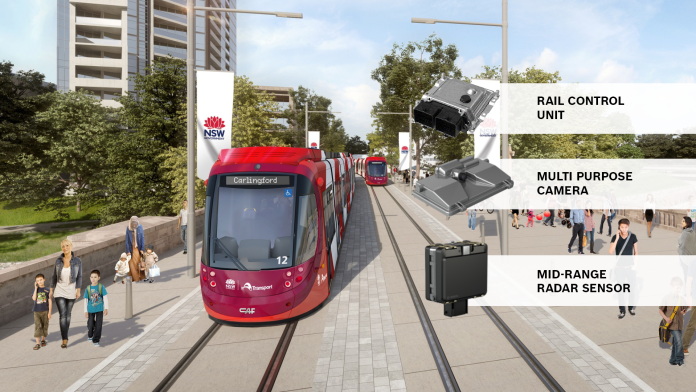 Media Release Bosch
Tram driving requires maximum concentration over long periods of time. In complex traffic situations, collisions with other vehicles may occur. To mitigate this, Bosch has developed a collision warning system incorporating artificial intelligence (AI) to support tram drivers. A collision warning system will be introduced for the first time in Australia to mainstream operation by CAF Rail on the Parramatta Light Rail network.
"This is a logical application of driver assistance technologies found in other types of vehicles – it will make tram travel safer for everyone, helping to protect human lives as well as preventing accident damage," said Gavin Smith, President of Bosch Oceania.
"We want the Parramatta Light Rail to be one of the safest and most reliable public transport systems in Australia, so the Bosch collision warning system is a perfect fit for us," said Ramon Muntada, CAF TE Area Manager. "Not only will it benefit the drivers of the light rail vehicles, but it will also help to reduce accidents."
Cutting-edge technology tailored to trams
Bosch developed the tram collision warning system from similar technology originally developed for passenger cars. The tram collision warning system warns the driver in the case of an imminent collision.
The collision warning system combines video and radar sensors with a high-performance electronic control unit. The video sensor monitors the track layout ahead as well as vehicles and people, while the radar sensor monitors mobile obstacles, and detects any static objects. The electronic control unit processes information from both sensors.
The information is merged into a very detailed image of the surroundings and supplemented with additional information, such as the speed of the tram. If the system detects a critical approach, it warns the driver visually and acoustically.
Although the AI-based system reacts autonomously, the driver can intervene and override the system at any time using the driver acknowledgement function.
A major step forward in tram safety
Bosch's technology can play a key role in preventing tram accidents. Recent statistics reveal there were 612 collisions reported between a tram and road vehicle and 23 between a tram and person in Australia in the 2020-2021 financial year*.
The collision warning system has an extended functionality that introduces automatic emergency braking if the driver reacts too slowly or not at all to the warning.
The full collision warning system has already helped to improve safety in Europe. For example, in one German city, the number of tram accidents fell by more than 40 per cent following the installation of the collision warning system, even though the number of trams in operation increased.
The technology not only saves lives but also significantly reduces costs for operators by reducing network downtime and thus improving the reliability of the service to passengers.
In 2021, the system was already used in approximately 550 trams in 19 cities across Europe. This year, the system will also be introduced in North America.