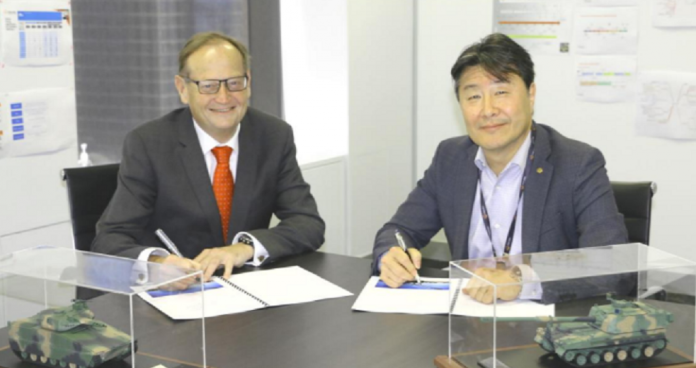 Welding technology developer K-TIG has inked a Memorandum of Understanding (MoU) to develop advanced keyhole welding procedures for Hanwha Defense Australia and Hanwha Defense Corporation.
Hanwha is the preferred supplier for the Australian Army's multi-billion dollar Land 8116 self-propelled artillery project and is shortlisted for the Land 400 Phase 3 Infantry Fighting Vehicle project.
As preferred tenderer, Hanwha will offer its Huntsman self-propelled howitzer in the first phase of the army's Protected Mobile Fires project.
The company, which is one of South Korea's largest military manufacturers, will build and assemble Huntsman and its supporting systems in Australia with a budget estimated at up to A$2.6 billion.
Under the MoU, K-TIG will demonstrate its ability to weld advanced steels for military vehicles in the joint geometries applicable to the Huntsman vehicle.
The deal will see Hanwha supply the armoured steel coupons to be used in the development of the Hanwha specific welding protocols, with K-TIG to supply samples of the coupons welded in the agreed geometries for independent testing of weld quality.
"Partnering with Hanwha to create crucial equipment for Australia's defence is a significant opportunity for K-TIG to deploy the speed, efficiency and effectiveness of our advanced keyhole welding technology, all while helping to create local jobs, develop strategically vital manufacturing skills for the nation, and provide the Australian Army with the self-propelled artillery capability it's desired for many years," said K-TIG Managing Director Adrian Smith.
K-TIG said in a statement that following a successful welding demonstration, the company will collaborate with Hanwha to develop automatic welding procedures for manufacturing the Huntsman in Geelong, Victoria.
Altogether, 60 of the self-propelled artillery systems are slated for local production, along with 15 ammunition supply vehicles, their support systems, and ongoing maintenance, representing a major pipeline of future work.
Image credit: https://asx.api.markitdigital.com/asx-research/1.0/file/2924-02356471-6A1025731?access_token=83ff96335c2d45a094df02a206a39ff4