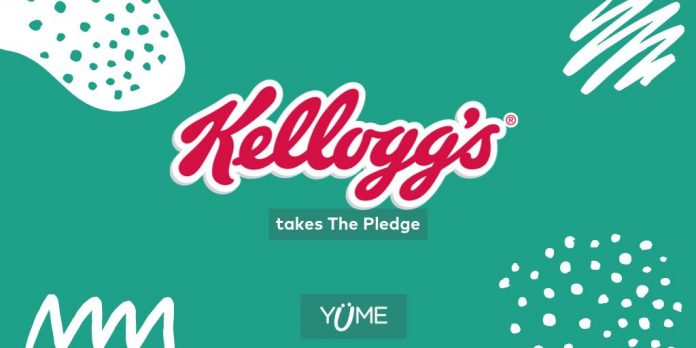 Media Release
Kellogg's Australia and Yume, an innovative online B2B marketplace for the sale of quality surplus food, are thrilled to announce a new partnership which enables Kellogg's to list any surplus raw materials that become available during the manufacturing process exclusively through to the Yume platform.
The Yume platform enables food suppliers such as primary producers and manufacturers to safely sell their quality surplus products directly to buyers in the ­foodservice industry.
Kellogg's is the first Australian manufacturer to take the Yume Pledge, helping to ensure that the company continues to find innovative ways to help reduce food waste in Australia.
Tamara Howe, Director of Marketing and Corporate Affairs, at Kellogg's Australia and New Zealand, said that partnering with Yume is another way for us to continue tackling the issue of food insecurity, and ensure that no food or ingredients we purchase go to waste.
We know that the ingredients that go into our foods use our natural resources – including water and energy, plus our farmers work incredibly hard to grow these foods for us. Therefore, we need to make sure all of that hard work and resources don't go to waste.
We have a multifaceted approach to minimise food waste in our business. This includes prevention through processes to reduce the risk of surplus stock & ingredients through to donating finished foods that are nearing their best before dates, but still good to eat, to people in need through our charity partners.
"The Yume partnership will make it easier for others to get access to any excess ingredients we may have from time to time, and re-use these for other foods."
"There are many reasons why a manufacturer like Kellogg's can have surplus ingredients. Either imperfect goods, deleted product lines or raw materials that are no longer needed for production. Thanks to Yume, Kellogg's can continue to focus on creating high-quality breakfast products we all know and love, while Yume can focus on finding a new home for their surplus ingredients.
It is great to see a market leader like Kellogg's walking the talk and taking direct bold action into fighting food waste" says Katy Barfield – Food Waste Leader & Founder of Yume.
4.1 Million tonnes of food goes to waste every year in Australia in the commercial food sector*, Yume exists to prevent all of quality food from going to waste.
Already, Yume – which works with hundreds of leading food manufacturers – has sold over 1,100,000kgs of quality surplus food, returning over $4.5 million to Australian farmers and manufacturers. In doing so, the award-winning social enterprise – one of only three companies globally using technology to offer an innovative market for surplus food – has saved 72,123 million litres of water and prevented 2,200 tonnes of carbon dioxide from being released.
Kudos to @Kelloggs_ANZ for being the first Aussie manufacturer that takes The Yume Pledge to ensure that no food or ingredients they purchase go to waste! #foodday #waronwaste #Foodtech pic.twitter.com/wOXFxLgJXC

— Yume Food Australia (@yumefoodaus) October 15, 2019