Kimberly-Clark Australia has won the prestigious Banksia award for Leading in Sustainability for large Organisations at the 25th Banksia Sustainability Awards held on Wednesday night.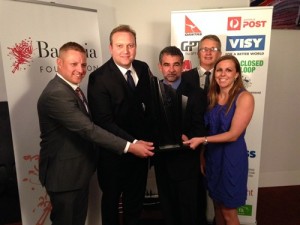 Kimberly Clark Australia has transformed its substantial manufacturing and consumer goods business with leading brands into an Australian market leader in sustainability, according to a media release from the company.
'We are incredibly proud of the progress we've made towards our 2015 Our Essential World Sustainability strategy goals," said Robbert Rietbroek, Vice President and Managing Director for Kimberly-Clark Australia and New Zealand, who accepted the award.
"In particular, the work we're doing with FSC and WWF and our waste and energy reduction efforts, including the installation of a $30 million cogeneration facility at our tissue mill in South Australia."
In 2011 Kimberly Clark Australia and New Zealand 'Our Essential World', an ambitious sustainability strategy focused on three pillars: people, planet and products.
The company's leading brands Kleenex, Kleenex Cottonelle and Viva are now partnered with environmental non-profit organisation WWF as part of its commitment to using Forest Stewardship Council (FSC) certified wood products in its tissue based products.
"I would like to congratulate the Kimberly-Clark employees who have truly brought our strategy to life, in particular, our manufacturing facilities for continuously improving our processes to reduce our waste to landfill and carbon emissions, and our Sustainability Team – Jacquie Fegent-McGeachie and Ryan Kane – for their work implementing and driving a tailored strategy for Australia and New Zealand," said Mr. Reitbroek.
Meanwhile Graz van Egmond, Chief Executive Officer Banksia Foundation said the judging panel of the awards found that Kimberly Clark has evolved to become an industry leader that holistically covered the key elements of sustainability.
"Kimberly-Clark set about using the power of its brands to help educate Australians about key sustainability issues. At the same time, challenging itself to significantly reduce its carbon emissions, reduce waste to landfill, being active community contributors and showing leadership around post-consumer waste and ethical sourcing," she said.
The Banksia award for Leading in Sustainability for large Organisations award recognises businesses and organisations with over 200 employees that demonstrate leadership by applying sustainability principles in their operations and ultimately reducing their carbon footprint in the process, while at the same time educating and influencing the market.