Kimberly-Clark Australia has received the prestigious FSC Supplier of the Year Award from the Forest Stewardship Council Australia Excellence Awards held in Melbourne last week.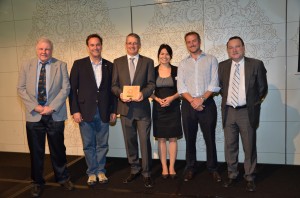 The award from FSC marks the third time this year that Kimberly-Clark Australia has been recognised for their sustainability efforts, after receiving The Australian Business Award for Environmental Sustainability earlier this year.
Kimberly-Clark also received the Banksia award for Leading in Sustainability for Large Organisations which recognises businesses and organisations with over 200 employees that demonstrate leadership by applying sustainability principles in their operations and ultimately reducing their carbon footprint in the process, while at the same time educating and influencing the market.
According to a media release from Kimberly-Clark, the FSC Awards reward and recognise organisations that exemplify the spirit and intent of the FSC certification system, the world's most rigorous environmental and social standard for responsible forest management.
"FSC Australia is proud to once again, via an independent judging panel, reward Kimberly-Clark Australia for the enormous contribution made driving responsible forest management in Australia by virtue of this prestigious award," said Natalie Reynolds, Chief Executive Officer of FSC.
"Kimberly-Clark has taken a strong leadership role in the procurement and supply of FSC® Certified products both here and internationally and they should be highly commended for that role."
Robbert Rietbroek, Vice President and Managing Director of Kimberly-Clark Australia and New Zealand says they are honoured to be recognised for their leadership.
"As the largest tissue manufacturer in the world, Kimberly-Clark is committed to ethical sourcing and using the power of our well-known brands like Kleenex, Kleenex, Cottonelle, VIVA and Scott to promote responsible forest management through FSC. We're honoured to be recognised by the Forest Stewardship Council for our leadership."
Kimberly-Clark Australia has been in partnership with WWF for two years now and is a Foundation Supporter of the Love Your Forests campaign. The company has helped raised consumer awareness of the importance of sourcing tissue and paper products from responsibly managed forests, and proactively promoting consumers to choose products with FSC® certification.