Holden's factory workers have reportedly been snubbed by the boss of the company's international operations, casting a bigger cloud of doubt over the car manufacturer's future in Australia.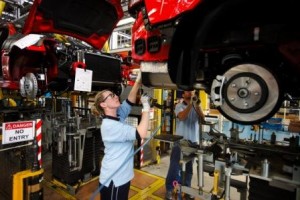 According to a report published on The Australian, Stefan Jacoby, Executive Vice President Consolidated International Operations at GM and the man who will decide on the fate of Holden's Elizabeth plant, flew into Australia in secret to visit the company's Port Melbourne headquarters and examine the Holden model range in the Lang Lang proving ground south-east of Melbourne.
Mr. Jacoby met with some of the engineers who developed the cars, but did not have time to meet any of the 1700 workers in the facility in South Australia.
Australian Manufacturing Workers Union's SA Secretary John Camillo says he is disappointed about not being able to speak with Mr. Jacoby from whom he requested a meeting. Mr. Camillo even offered to fly to Melbourne to present the case on behalf of Holden's workers.
"I'm disappointed I never got to put the union's point of view across," Mr. Camillo told News Corp Australia.
"I offered to drop everything for just a 10-minute meeting, even if it was just at the airport. I understand he's busy but we're talking about the jobs and future of 1700 Holden workers and those in the parts supply industry and I wanted him to know what sacrifices we had made to help Holden keep manufacturing in Australia."
Mr. Camillo said it would be very hard to reverse the decision once General Motors has decided to close the factory.
"I hope the discussions Mike Devereux had with Mr Jacoby were positive."
Meanwhile the car industry is awaiting the outcome of two Productivity Commission reviews, due on December 20 and March 31.
Mr. Jacoby is scheduled to depart Australia today to proceed to the next leg of his world tour.
A statement from Holden said: "Mr Jacoby is in Australia for a very quick visit to review Holden's current and future product lineup and to discuss strategic issues with the management team."