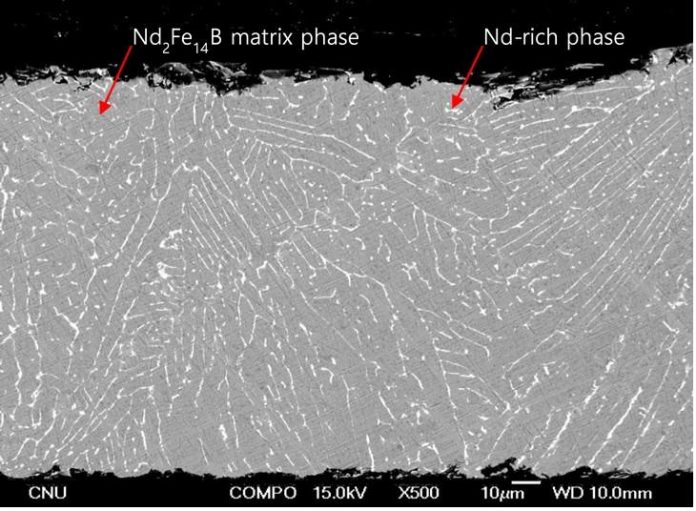 Australian Strategic Materials (AMS) announced that the Korean Institute of Rare Metals (KIRAM) has successfully produced and tested two kilograms of pre-sintered permanent magnets from ASM's high-purity neodymium-iron-boron (NdFeB) powder from its pilot plant in Korea.
The company, whose titanium powder was approved for 3D printing in South Korea last week, said KIRAM scientists made a strip-cast sample using five kilograms of the NdFeB powder produced by its Ziron Tech team.
The scientists subsequently examined the strip using scanning electron microscopy (SEM) and Energy Dispersive X-Ray Spectroscopy (EDS) to confirm the microstructure and magnetic orientation.
"Some of the Ziron Tech NdFeB alloy was pressed into a two-kilogram block to measure the magnetic characteristics using VSM (Vibrating Sample Magnetometry) and compared with a similar sample made from a commercially available alloy," the company said in a statement.
"These tests indicated that ASM's pre-sintered magnet exhibited superior magnetic properties than the commercial sample."
ASM managing director, David Woodall, said KIRAM's testing provided a strong indication that the company's NdFeB alloy is suitable to produce rare earth permanent magnets that are commercially in demand, further validating its strategy to become an independent, fully integrated "mine to manufacturer" producer of critical metals.
"The excellent support and collaborative work between the Ziron Tech and KIRAM teams delivered a truly significant result," Mr Woodall said.
"It provides ASM with confidence that our integrated business model – from the Dubbo Project to metals production – can play an important part in the Korean Government's 'New Green Deal'.
"We now have confirmation of the quality and high purity of the permanent magnet alloy and titanium powders ASM can deliver to the Korean industry and eventually the global markets."
He said the company was now looking to advance in the next few months with the detailed engineering, incorporating both the recently produced titanium and the permanent magnet powders as part of an initial 5,200 tonnes per year plant in Korea, projected to be fully operational by mid-2022.
"This is a very significant transition for the company as we continue to progress the development of the Dubbo Project in the central western, NSW," Mr Woodall concluded.
Image credit: https://asm-au.com/