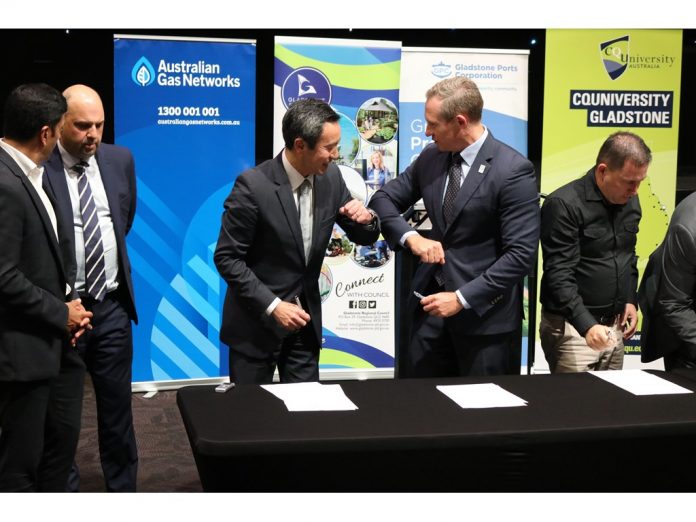 Sumitomo Corporation has signed a Memorandum of Understanding (MoU) with Gladstone Ports Corporation, Gladstone Regional Council, CQUniversity Australia and Australian Gas Industry Group to develop Australia's first hydrogen ecosystem in Central Queensland.
Minister for Energy, Renewables and Hydrogen Mick de Brenni said the signing of the MoU in Gladstone further validated Queensland's hydrogen credentials and its aspirations to become a global destination for investment and a future reliable renewable energy exporter.
"Today's signing is a major endorsement of international investor confidence, that a global corporation in Sumitomo is working with Queensland and local companies to deliver renewable hydrogen," Mr de Brenni said.
"We know countries around the world, like Japan, have mandated decarbonisation and set clear targets – and they're looking to Queensland for help to meet them.
"With access to existing water and gas pipeline infrastructure and publicly-owned ports giving crucial access to domestic and international markets, Queensland is well placed to supply renewable hydrogen to the world, and Sumitomo recognises this.
"Gladstone's Hydrogen Ecosystem project will prove supply chains and grow a domestic hydrogen market, with the ultimate prize being more Queensland exports from right here in Gladstone."
Sumitomo Corporation's Executive Officer Hajime Mori said Sumitomo Corporation was proud to be championing building the Hydrogen Ecosystem in the Gladstone region.
"With exceptional solar radiance and sophisticated regional partners and infrastructure, Gladstone is a unique world class location for renewable hydrogen production and regional utilisation with significant export potential," Mr Mori said.
Minister for Regional Development and Manufacturing and Member for Gladstone Glenn Butcher said Queensland would need a fully integrated, export-scale hydrogen supply chain by 2030 if it is to meet the demand from countries like Japan.
"Fortunately, Gladstone has an outstanding record in the development of energy exports from a standing start, considering we grew our $70 billion LNG industry in just under a decade," he continued.
"The development of a modern, world-leading energy sector is critical to growing Queensland manufacturing and sustaining our resources sector."
The Gladstone Hydrogen Ecosystem design study is expected to commence next month.
Image credit: https://statements.qld.gov.au/statements/91710