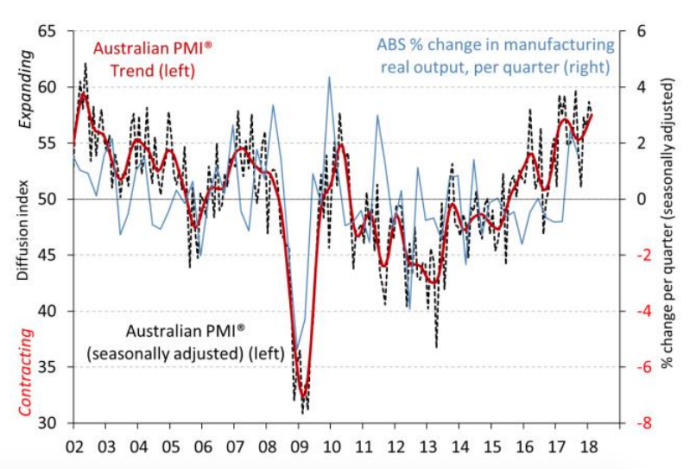 Australia's manufacturing sector has continued its positive start to the year, racking up its 17th month of expansion in February – its longest run since 2005.
According to the latest survey by the Australian Industry Group, the Australian PMI slipped 1.2 points to 57.5 in February, indicating further expansion but at a slightly slower pace than in January.
All seven activity sub-indexes in the Australian PMI expanded for the fourth competitive month, although only employment (up 5.7 points to 57.8) and exports (up 4.7 points to 56.5) accelerated and the rest showed signs of stagnation.
The survey found that six of the eight manufacturing sub-sectors expanded in February, with textiles & clothing hitting a historic low of 33.0 points and printing & recorded media dropping 5.3 points to 39.7.
The input prices sub-index continued to decline following November's six-year high (down 1.2 points to 68.5) , while the wages sub-index reached its lowest point since July 2017 (down 2.3 points to 56.8), having sat at around 60 points for the majority of last year.
The selling prices sub-index rose by 1.4 points to 50.6, despite the well documented energy cons pressures.
Commenting on the February reading, Ai Group Chief Executive Innes Willox said:
"The broad-based expansion in Australia's manufacturing sector continued in February led by the food & beverage and the petroleum, chemicals & rubber product sub-sectors," Mr Willox noted.
"Production, employment and exports were all encouragingly strong and the further growth in new orders points to the likelihood that the sector will extend its 17-month unbroken run into autumn. The high level of employment growth in the sector continues to be reinforced by moderate wage outcomes on average."
"That said, for some producers, skill-shortages are re-emerging as a constraint on growth and are putting pressure on remuneration among a range of highly-skilled occupations. This and high energy costs are keeping a lid on producers' margins."