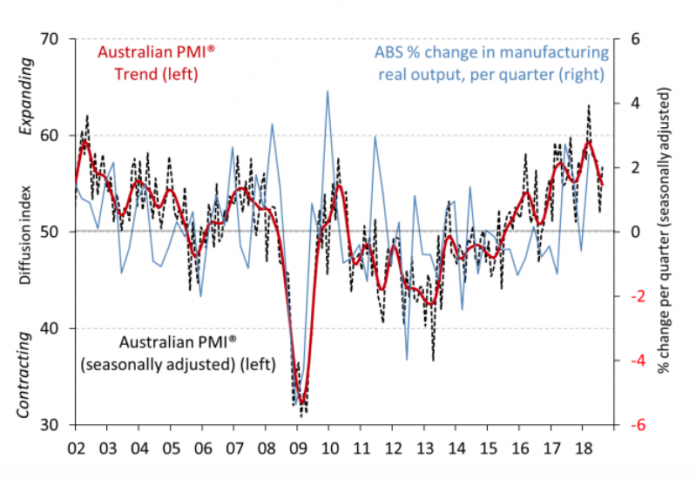 The Australian Industry Group Australian Performance of Manufacturing Index (Australian PMI) has posted its lowest reading since August 2016, having slipped by 3.5 points to 48.1 in November.
Ai Group's latest report indicates that a weak Christmas period may be ahead for Australian manufacturers, driven by contraction in employment and new orders.
"The recent weakness in new orders continued in November (down 1.1 points to 47.2) and has now started to flow through to other activity indices, with employment (down 5.5 points to 47.3) and supplier deliveries (down 7.0 points to 45.3) also contracting," reads the report.
According to the report, the overall weakness was not evident in the food & beverages sector, the machinery & equipment and the chemicals sectors (which reported a further strengthening of performance in November), with weakness concentrated in the metal products, building products and TCF & printing groups.
"Three of the six manufacturing sectors in the Australian PMI® expanded in November, led once again by food & beverages (up 0.4 points to 60.8) and machinery & equipment (down 0.3 points to 53.1)," is says in the report.
"Although still contracting, the metal products sector's rate of contraction continued to slow (up 1.7 points to 46.8), with businesses servicing mining and defence projects reporting solid market conditions."
The survey has also found that drought remains a top concern for many manufacturers, particularly those located in rural areas or those selling metal products and machinery & equipment to the agricultural sector.
Ai Group Chief Executive Innes Willox said the report's findings necessitate that the Federal Government consider greater stimulus options.
"A decline in performance across the diverse manufacturing sector had been telegraphed by the weakness in new orders in recent months," Mr Willox noted.
"The further fall in new orders in November is far from encouraging and is further evidence that the stimulus from interest rate reductions and the income tax cuts has not so far flowed through to consumer and business spending.
"The Federal Government will need to look very closely at additional stimulus options over coming months."
Image credit: www.aigroup.com.au