Australia's dairy industry was handed a major international recognition as Melbourne received the honours of hosting the first International Dairy Federation (IDF) Symposia to be held in the country.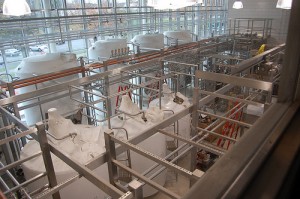 According to the media release by Dairy Australia, Melbourne will host two Symposia; the Second IDF Symposium on Microstructure of Dairy Products, to be held March 3rd-4th, and the Fifth IDF Symposium on Science and Technology of Fermented Milk, scheduled for March 6th-7th.
"The IDF Symposia are the most prestigious conferences on the science of dairy in the world," said Neil Van Buuren, Program Manager at Dairy Australia and Chairperson of the Symposia coordinating committee.
"It is a real coup to have these meetings here in Melbourne as they really are the 'Olympics' of dairy science and to date more than 150 delegates from over 15 countries have registered," said Mr Van Buuren.
The list of distinguished speakers scheduled to appear at the Symposia includes Dr Jeremy Hill, Chief Technology Officer for Fonterra and President and Chair of the Board of the International Dairy Federation; Dr Wang Jun, Executive Director Beijing Genomics Institute, and Dr Peter De Kok Principal Scientist Flavour, Nizo Food Research, responsible for science quality and innovations in the field of aroma and taste.
"Dr Wang is one of the world's most important scientists working in the area of genetics and his focus is on the analysis of complex diseases and agricultural crops. In 2012 Nature magazine described Dr Wang as one of the 'Ten People who Matter' in science, so it will be fascinating to hear what he has to say," said Mr Van Buuren.
The Symposium on the Microstructure of Dairy Products will cover topics such as the impact of variables in production such as temperature, pH, calcium and protein concentration, and will also present papers examining the impact of dairy food composition and structure on the digestion process, the rate of protein degradation and nutrient release.
The Symposium on Science and Technology of Fermented Milk will examine the underlying science, manufacture, product development challenges, texture, flavour, shelf-life and health benefits of fermented dairy products.
Sponsored by Dairy Australia, the Symposia will also feature presentations and posters revealing the incredible nutritional and cultural importance of fermented milk in cultures as diverse as Scandinavia, Sub-Sahara Africa and Central Asia.