The Manufacturing Excellence Taskforce Australia (META) – the collaborative network of manufacturing businesses – has announced that it has launched the META Australian Made Clothing Hub in partnership with the Council of Textile and Fashion Industries of Australia (TFIA).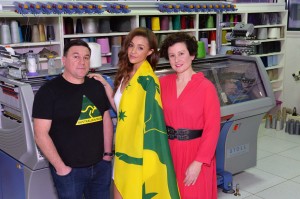 "The Australian clothing industry needs to sufficiently understand the value proposition of Australian designed and made clothing, and ensure that an efficient local supply chain is made available – including the link to the customer," said META Managing Director, Zoran Angelkovski in a media release.
"By understanding the value proposition we will look for ways to gain another 3 per cent ($390 million) of the current $13B clothing sales in Australia for Australian Made Clothing. Most recently the industry has seen a number of successful international global clothing giants entering the Australian market.  The META Australian Made Clothing Hub will audit the health of the supply chain and understand the value proposition of Australian designed and made clothing to consumers."
Intended as a collaboration platform where suppliers, designers and manufacturers can work together with research organisations, the hub is aimed at building a sustainable and globally competitive Australian clothing industry.
The hub was launched during Melbourne Spring Fashion Week (MSFW).
"There will be a fantastic array of design talent on display throughout the nine days of MSFW and this is a good opportunity to also consider the challenges businesses can face in manufacturing these designs," TFIA CEO Kiri Delly said.
"It's time to look at new ways of doing things, including reviewing the current labour legislation, thinking innovatively and working collaboratively to ensure our local industry remains competitive and relevant. The future of Australian fashion will be in small, responsive companies that provide niche, value-add offerings. We are excited to launch the META Australian Made Clothing Hub to develop and articulate these opportunities both back to the industry and the consumer."
It involves 11 major participants, including the Council of Textile and Fashion Industries of Australia, Nobody Denim, Stewart & Heaton, RMIT, The Ark Clothing Company, Wilderness Wear, Lisa Barron, Babylon Industries, LM Australasia, Melbourne Made and Bruck Textiles.
"We need to work collaboratively and think outside the square to identify the opportunities and resources that are available if we are to compete with international retail and manufacturing giants. Since joining META I've been able to develop partnerships and friendships with other CEOs to problem-solve together," said META member and Hub participant John Condilis, co-founder of Nobody Denim.
"This Hub will work to understand the future opportunities of Australian made clothing and how the future supply chain can meet the needs of that value proposition," added Hub member and Associate Professor Karen Webster, Deputy Head of School – Fashion and Textiles, RMIT University.
For more information or to register go to http://meta.org.au/join-us/