Mitsubishi Heavy Industries is in serious talks to become a supplier for the F-35 stealth fighter to Britain's BAE Systems, according to a Reuters report.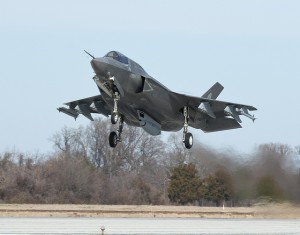 The development marks the first involvement of a Japanese manufacturer in a global weapons program.
According to three sources with knowledge of the discussions, any agreement that would arrive from the deal will depend on whether Tokyo will provide subsidy to manufacture the components for the rear fuselage of the fighter that Mitsubishi Heavy is seeking to supply as a subcontractor.
BAE spokesman Mark Ritson said the company had been involved in talks about "potential subcontracting" opportunities for Mitsubishi Heavy with American defence company Lockheed Martin. Ritson said those discussions were ongoing but declined to comment on details. Japan's defence ministry and Mitsubishi Heavy have declined to comment on the matter.
According to sources, the discussions have already gone as far as agreeing on the terms of what work and technology would be transferred under the potential deal. However sources said that without the support of a subsidy, Mitsubishi Heavy will struggle with manufacturing the components for BAE without incurring a loss.
Any subsidy that will be provided for Mitsubishi Heavy would have to come out of funding for Japan's Ministry of Defence. One of the sources said that Lockheed Martin, BAE and other members of the F-35 consortium are enthusiastic about Mitsubishi Heavy's participation in the wider program, but not if it means relenting on tight controls on production costs.
Mitsubishi Heavy has a current contract to manufacture the first F-35 for Japan's Self-Defence Forces in 2017.
Should the deal with BAE be realised, Mitsubishi Heavy would strengthen its ties to a project to deliver a fighter jet that the United States and its allies plan to use for decades, according to Reuters.
The international F-35 Lightning II Joint Strike Fighter (JSF) program is the largest military aerospace program in the world, valued in excess of US$300 billion worldwide. The other countries in the nine-nation consortium building the plane are Italy, Turkey, Canada, Australia, Denmark, Norway and the Netherlands.