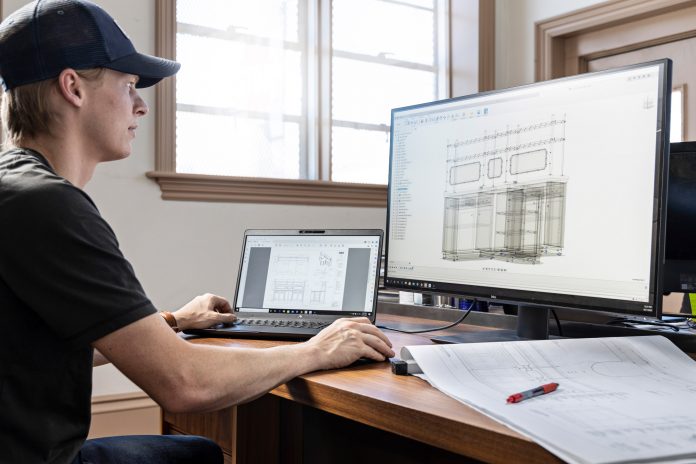 Sponsored Content by 
If you're cutting a large number of parts out of flat sheet stock with varying dimensions and prices, nesting is a crucial piece of the workflow to help eliminate guesswork and minimise waste.  Nesting optimizes the process of laying out parts on a flat sheet of material to reduce scrap and optimise finished goods production. Typical materials include sheet metal, heavy plate, wood, and fabric.  With the introduction of the Fusion 360 – Nesting & Fabrication Extension new capabilities include integrated, automated, and associative nesting with material, thickness, and quantity detection that will help optimise the arrangement of parts – both sheet metal and non-sheet metal – on flat raw material in preparation for cutting operations.
The nesting capabilities were built to be easily used with existing assemblies by including simple part filtering to reduce overall model prep time.  The workflow is seamless, with no need to translate or export your design, so there is no data loss along the way.  Parts are grouped by material and sheet thickness, and nested based on your specifications. You also have the ability to compare the key metrics of your nesting results and view even more detailed metrics in the printable nest reports.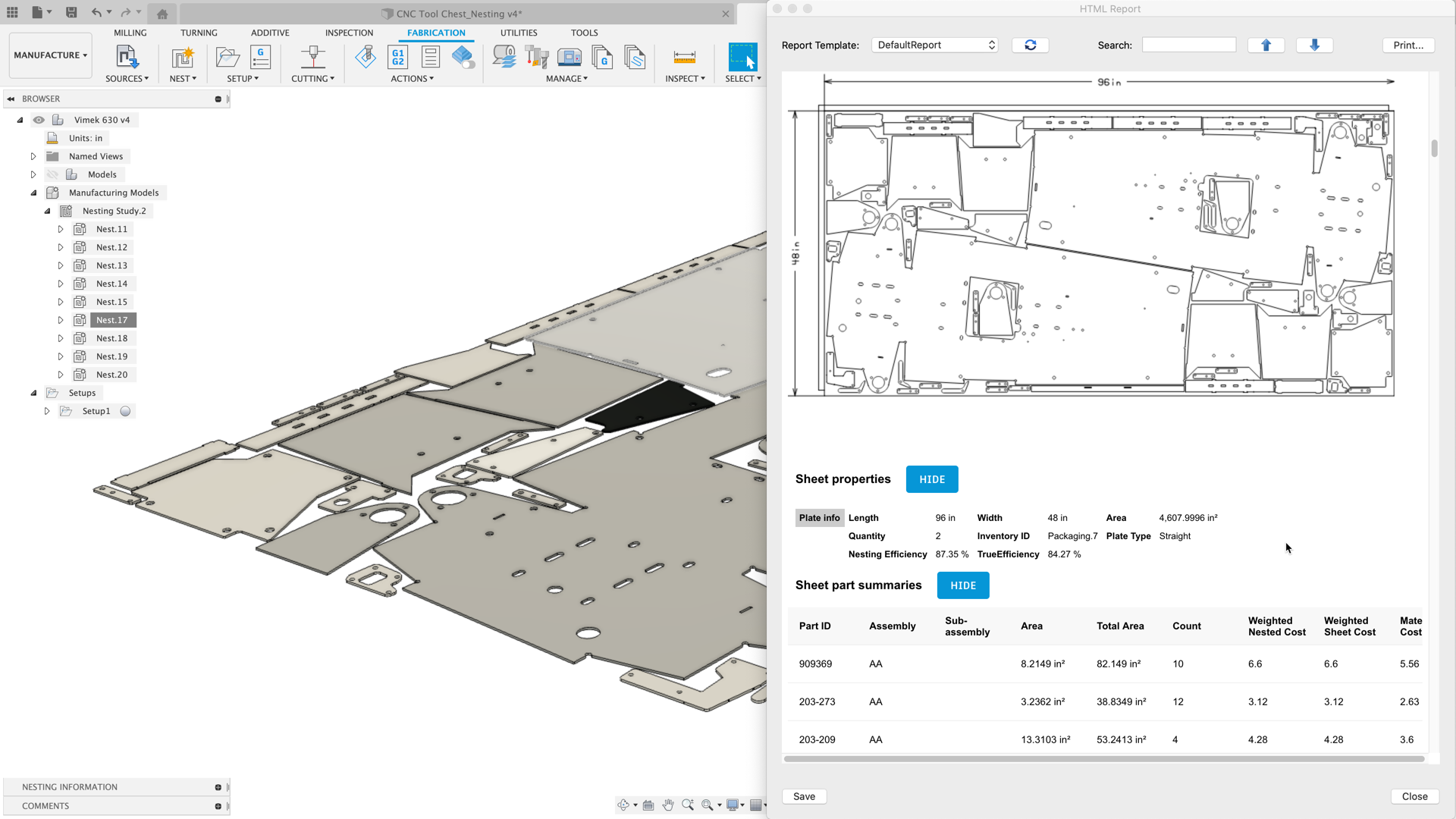 There are many benefits to the Nesting & Fabrication capabilities in Fusion 360, including:
Increased material yield by combining multiple jobs or sub-assemblies for a single job
Nest from multiple documents (.dxf, .f3d) to aggregate and nest parts from different documents.
Automated nesting to reduce lead time and errors
Multi-sheet nesting generates optimised nests across multiple sheets with material, thickness, and quantity detection.
Automatic alignment of nested parts for any material grain or aesthetic requirements
Advanced part and material controls let you specify allowed rotations, deviation, and increment for initial part orientations.
Standardised material availability within your business
Store available material and stock information in a shared process material library.
Automatic creation of setups with defined stock sizes from nested results, across multiple sheets, for faster programming
Create setups, toolpaths, and NC code for nested models or export nested sheet results as a DXF file.
Simplified job quoting process. Compare how varying quantities, sheet dimensions and prices affect your total costs to help improve your ROI.
Create and compare customisable nest reports that can be saved and shared in PDF format.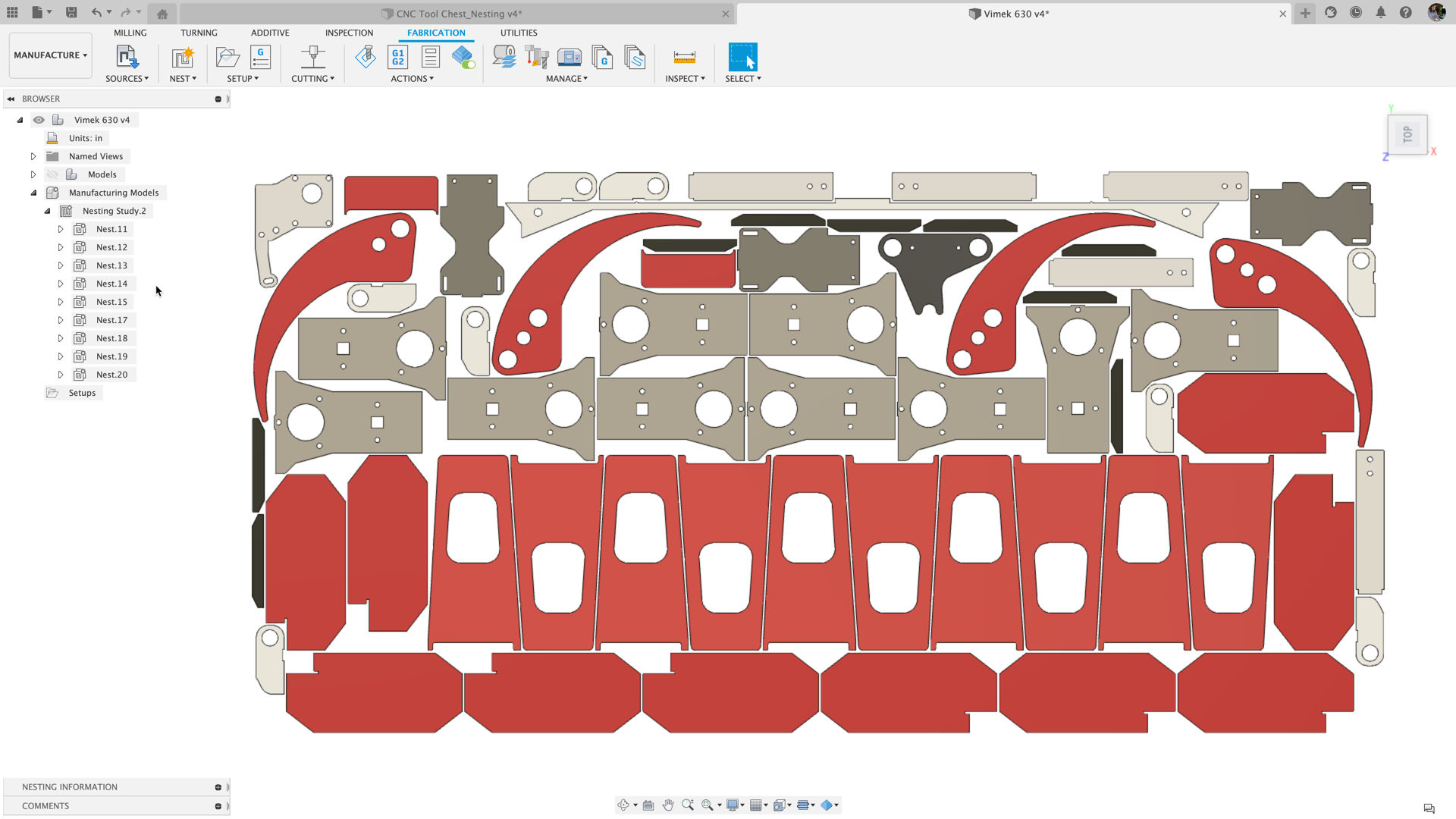 The Fusion 360 Nesting & Fabrication Extension enables you to generate nests from your Fusion 360 designs and create toolpaths and NC code to drive your CNC machines.  It is fully integrated alongside CAD and CAM functionality, which includes instant access to toolpath generation for a variety of CNC machines.  Easily create manufacturing setups from nested sheets and start programming with the easy-to-use toolpath options for milling and contouring applications.  When you're ready to start production, Fusion 360 offers a full library of fast, free, and fully customizable post processors to get code to your machine, closing the loop on the design, nesting, and fabrication process.
But what about when a design changes? Even a small change can have a huge impact to nesting efficiency, which can affect throughput and material usage. Nesting and Fabrication in Fusion 360 is fully associative, so changes to the design are automatically consumed when the nest is updated.  Automatic selection tools streamline toolpath creation at any point in the process.  As you make model changes, the related nests will get marked "out-of-date" and you can update these to reflect the latest model changes.
Creating a Nesting Study in Fusion 360 is easy, fast, and flexible.  You may create multiple nest studies with varying inputs such as part quantity, rotation constraints, available sheet sizes, etc. and then compare the results to identify the best solution to manufacture or generate a quote for your customer. Reports offer a more in-depth and printable way to view nesting metrics, including the nest sources and packaging and their parameters, nested sheets, and sheet part summaries. Reports also offer configuration through report templates and sections can be shown or hidden to adjust report length.  You can save the HTML report or print it to create a PDF or paper copy.
Designed with the needs of fabrication and machine shops in mind, the Nesting & Fabrication capabilities in Fusion 360 includes technology for mechanical engineers, manufacturing engineers, fabricators and machinists typically involved in a fabrication workflow. You can quickly program the nesting of components and/or creation of cutting toolpaths for machines such as laser cutters, waterjet, plasma or routers.
"Having a turnkey 3D CAD, nesting, and CAM software with Autodesk Fusion 360 has       been an invaluable tool in increasing the company's efficiency.  It has accelerated the       engineering and manufacturing on all of our projects, from high end residential furniture   to custom architectural millwork." Richard Ganas, Founder & CEO of GANAS MFG. www.ganasmfg.com
Learn more about the Fusion 360 – Nesting & Fabrication Extension or start a free trial: https://www.autodesk.com.au/products/fusion-360/nesting-fabrication-extension