Australia's new country of origin food labelling came into effect on Friday, and will be compulsory for all food products produced for sale in Australia.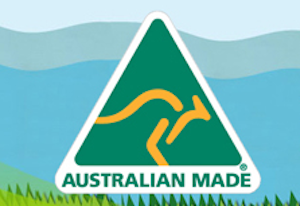 Australian Made Campaign Chief Executive Ian Harrison said the famous Australian Made, Australian Grown (AMAG) Kangaroo logo will feature on most new labels, along with a bar chart that will show what proportion of the ingredients are sourced from Australia.
He said companies will be allowed a two year phase-in period to relabel, redesign and sell existing stock before the June 30, 2018 deadline, when the new system will become mandatory.
"A tighter system for food labelling, coupled with a better understanding of that system by consumers, will give Aussie shoppers more confidence in what they are purchasing and provide Australian farmer and manufacturers with a much needed leg up," Mr Harrison said.
"It removes that old phrase which nobody liked, 'Made in Australia from local and imported ingredients."
According to Mr Harrison, the widespread use of the AMAG logo will also strengthen the logo's connection to Australia and help boost sales of genuine Aussie goods in domestic and export markets.
"Exported food is not required to carry the new labels so businesses wanting to use the AMAG logo on their products can do so under a licence with AMCL," Mr Harrison added.
"Shoppers will also continue to see the AMAG logo on all other types of Aussie products with AMCL to continue administering and promoting the logo as a voluntary country of origin certification trade mark."