Carbon Revolution Pty Ltd. is the recipient of the first grant of $5 million under round one of the Australian and Victorian Government's Geelong Region Innovation and Investment Fund (GRIIF), which is expected to deliver around 150 new full-time manufacturing jobs in the region.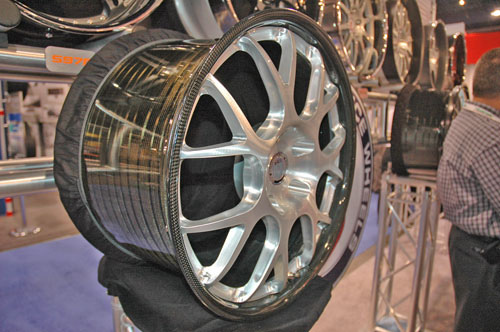 According to the media release by the premier of Victoria, the grant will allow Carbon Revolution to undertake a $23.8 million project for a carbon wheel manufacturing facility that will supply the global automotive industry, which is the first of five projects to be funded under GRIIF, a tripartite agreement between the Commonwealth, Victoria and Ford.
"This is good news for the Australian manufacturing industry and great news for Geelong. This project shows the depth of the Australian manufacturing sector and is an example of the type of innovative and high-tech manufacturing that Australia can excel in, as the sector undergoes major transformation," Mr Macfarlane said while visiting the company's headquarters, together with Victorian Premier Denis Napthine, Victorian Minister for Manufacturing David Hodgett and Member for Corangamite Sarah Henderson.
"The Geelong region has absorbed significant shocks in recent weeks and months, but these new investments are a show of confidence in the region and in the change of direction that is taking place in Australian manufacturing. While these changes are a challenge, they can be a positive turning point for industry and the catalyst for new investments and new jobs."
Carbon Revolution is the world's first commercial manufacturer of carbon fibre automotive wheels, including the award-winning 'one-piece' wheel, an engineered product that represents the cutting edge in design and manufacturing with composite materials.
"We are partnering with both Victoria and Ford to help entrepreneurial local businesses like Carbon Revolution undertake new projects that will create jobs and opportunities over the next few years while this transition occurs," Mr Macfarlane said.
"The Australian Government knows that industry is the driver of business and a fundamental building block of our 5-pillar economy. Our role is to provide a framework that will give Australian manufacturers, businesses and innovators the environment and the confidence to grow, create new opportunities and supply new domestic and global markets."
Dr Napthine said that Carbon Revolution was just another example of Geelong's many success stories with the local innovative business going from strength to strength.
"Carbon Revolution has a bright future here in Geelong making quality carbon fibre products for the automotive industry," Dr Napthine said.
"These new investments in manufacturing show Victoria's capabilities in driving innovation in advanced manufacturing, food processing and services, and a wide range of industrial and consumer products."
The Geelong Region Innovation and Investment Fund is a $24.5 million competitive, merit-based grants programme and eligible projects will focus on encouraging new investment to create new or additional business capacity that results in sustainable jobs. Businesses and organizations in the region can now apply for Round 2 of the GRIIF via the AusIndustry website.