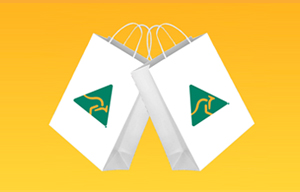 The latest research from Colmar Brunton, an international market research agency, has revealed that "Australian made" has made a jump to the third most looked for statement on product labels.
The Australian Made Campaign has welcomed these results, with AMCL Chief Executive, Ian Harrison stating that the report's findings prove that Australian consumers want to buy genuine Aussie produce.
"The finding that an 'Australian made' claim ranks second behind price factors in the information shoppers are looking for clearly establishes that shoppers want to know where their food is coming from and where their products are made. Primarily they want to buy Australian made and Australian grown," Mr Harrison said in a media release.
"The Australian Made, Australian Grown logo provides that immediate connection and gives Australian consumers confidence and trust that what they are buying is in fact from Australia."
With the recent changes to country of origin food labelling in Australia, the Australian Made, Australian Grown kangaroo logo is featured on food products along with a bar chart and statement showing what proportion of ingredients come from Australia.
"Shoppers buying local products and produce will continue to enjoy great quality while giving opportunities to Australian manufacturers and farmers," Mr Harrison said.