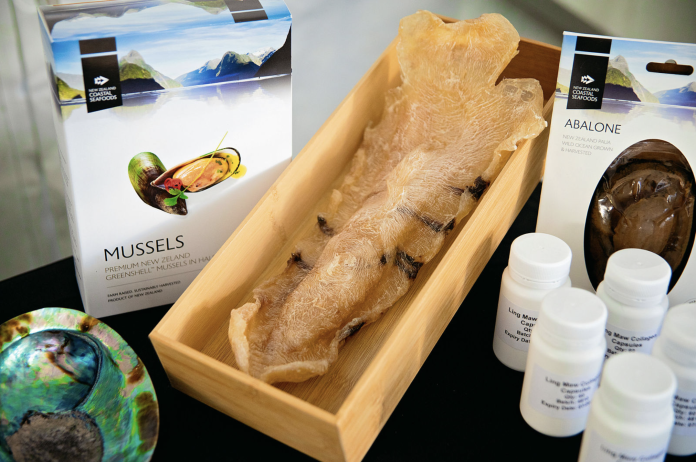 Media release by New Zealand Coastal Seafood's
Australian Securities Exchange listed company, New Zealand Coastal Seafood's (NZCS), (ASX:NZS) has developed a new process that allows the bladder from Ling fish to be turned into high-quality collagen powder of over 90% purity.
The unique process adds further value to ling swim bladders representing another significant opportunity to utilise a part of the fish that, until relatively recently, may have been limited as a specialty functional food for the Asian market. This world-leading technology mirrors those developments taking place in Iceland, which is seen as a global leader in the automation of fisheries processing and for maximising the use of all parts of the fish.
Consumers worldwide are increasingly demanding high-quality and sustainably sourced products, and there's a particular focus on the sustainable use of marine resources. As a business that has sustainability as its core, NZCS prides itself on reducing waste.
At a launch event held last week at the company's processing and production facility in Christchurch, NZCS chairman Wilton Willesee commented "We believe that our marine collagen powder will be among the best available anywhere, because of its origins in the pristine New Zealand deep sea Ling fisheries, and because of the process we've developed to extract and hydrolyse the collagen from ling maw."
The prestigious event was attended by notable industry figures including Rino Tirikatene, New Zealand's Parliamentary Undersecretary for Oceans and Fisheries, who also gave a speech, praising NZCS for their continued innovation and ongoing support for the New Zealand economy. "Yours is a great story – you're adding value to a by-product of a fish that is internationally recognised as a healthy stock through its certification from the Marine Stewardship Council, is well managed, and caught sustainably".
NZCS's marine collagen products has multiple unique selling points, as marine collagens are naturally free from contamination risk than alternative bovine, ovine or porcine collagen sources, with all of the company's Ling 100% wild caught under New Zealand's world-leading, sustainable Quota Management System. The hydrolysis process involves less chemical input and less energy compared with traditional processes for land animal collagen extraction, meaning that it has high yields and is 'cleaner and greener'. The process also achieves high concentrations of collagen in a form more easily absorbed by the human body.
"Commercialisation of the new flagship marine collagen powder is a major milestone for the Company, and follows successful completion of extraction trials using the new hydrolysis process developed for us exclusively with Medical Collagen New Zealand, who are a leading collagen researcher in this country" said Andrew Peti, CEO of NZCS
Our product has a multitude of unique selling points, giving us a significant competitive advantage in the collagen market. NZCS has dispatched samples to various wholesalers and distributors globally, and we are advancing discussions with prospective customers. We anticipate strong demand and sales over the next 12 months now we can supply the product on a commercial basis", he continued.
The global nutraceuticals market is certainly booming, with the global market for collagen powders valued at US$8.36 billion in 2020, with growth rates of 9% per year through the rest of this decade.
Collagen has significant potential due to its varied applications across cosmetics, pharmaceuticals, biomaterials, food, and nutraceutical industries; and fish waste represents a cost-effective source.