Olympus, a world-leading manufacturer and distributor of high-quality optical, electronic and precision engineering products, has showcased its range of lightweight, adaptable, analysis instrumentation suitable for the recycling industry at the Australian Waste and Recycling Exhibition (AWRE) recently held in Melbourne.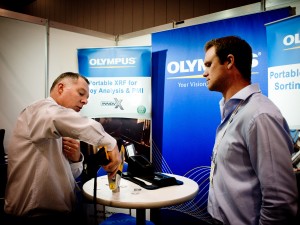 According to the media release issued by Olympus, the company displayed its latest hand-held X-ray Fluorescence (XRF) analyser models, as well as the GoldXpert, a stylish and functional bench-top precious metals analyser ideal for the new and second hand precious metals market.
"The Delta Professional has been developed specifically for the Alloy and NDT sectors, especially companies conducting analysis of manufactured and scrap materials such as stainless steel and a wide range of other alloy types," said Andrew Taylor, Regional Sales Manager with Olympus.
The GoldXpert can take the drudgery out of routine analysis," he said. "It is easy to use and provides carat and compositional analysis results with one push of a button."
The XRF analyser model works by emitting controlled beam of radiation to excite the electrons in a sample, causing the elements to "fluoresce". Each element fluoresces at a specific energy level referred to as characteristic peak.
By utilizing the latest technological advances by its own technological department, Olympus was able to design and build lighter and more compact analysers at lower and more affordable costs.
Mr Taylor said the mining and mineral exploration sector was the largest market for XRF analysers in Australia.
"Traditionally, XRF has been used for grading ore, exploration, metallurgy and mine site remediation and closure," he said. "We were at the Australian Waste and Recycling Expo to increase awareness of our products to other markets such as scrap metal recycling. The technology could also be used by environmental consultancies specialising in contaminated land remediation."
According to him, many Australia-based companies are yet to discover the full benefits the technology has to offer.
"Scrap metal is like gold, if you can identify the composition of your scrap accurately you can really take advantage of the market," added Taylor.
Olympus IMS is part of the Olympus Corporation, primarily focused on building leading edge testing systems including ultrasonic flaw detectors and thickness gauges, videoscopes, borescopes, microscopes, high speed video cameras, in-line and advanced non-destructive testing systems, X-Ray fluorescence analysers, interferometers, and a large array of industrial scanners, probes, software programs and instrument accessories.
"We are committed to the development of new technologies, products, and services that offer the best solutions to the needs of our customers," Taylor concluded.