Global mining services company Orica and the Commonwealth Scientific and Industrial Research Organisation (CSIRO) have signed a new five year research alliance which will aim to commercialise ground-breaking technology to improve productivity and environmental performance in the mining sector.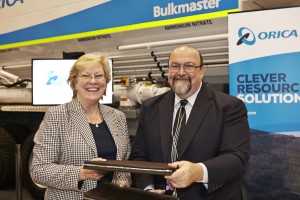 According to the news release by Orica, the agreement was signed by Orica's Managing Director and CEO Ian Smith and CSIRO's Chief Executive Officer Megan Clark on the sidelines of the IMARC mining and resources conference in Melbourne – Australia's premium international mining event.
"Over the past five years Orica and the CSIRO have been engaged in a hunt for innovation across the mining value chain and to date our partnership has achieved very pleasing results. The second alliance agreement signed today will allow a number of these ground-breaking research projects to continue their progression towards commercialisation," Mr Smith said.
"Our relationship with Orica over the past five years has produced many outstanding innovations, and the new agreement gives us even more opportunity for our science to make a difference to industry and the community," Ms Clark said.
The landmark achievements in the five years since the alliance was first established include:
Development of a new catalyst system targeting greenhouse gas abatement in high pressure nitric acid plants. Commercial trials of the system are scheduled to commence later this year, and if successful, the system is expected to reduce emissions of nitrous oxide by up to 70% compared to operation without abatement.
Awarding of a patent on conductive polymers as an alternative technology to replace wire in detonating systems. These polymers have the potential to improve reliability and durability significantly compared to current products.
Filing of a patent application this year for a new method of ore waste boundary mapping that minimises ore dilution. This technology is now in the process of being commercialised.