Premier of Victoria Daniel Andrews and Minister for Industry Lily D'Ambrosio visited defence manufacturer Marand Precision Engineering on Monday to support industry demands for greater job certainty in Victoria's defence manufacturing sector.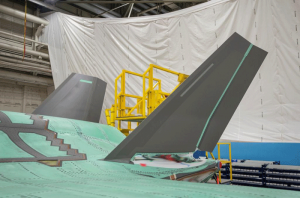 Marand is a privately-owned Australian engineering company with 270 employees. It services large international companies such as BAE Systems, Boeing and Lockheed Martin and is currently working on the USA-based Joint Strike Fighter (JSF) program.
The State of Victoria, a home to 300 defence manufacturing businesses that employ about 6,000 workers, leads the nation in contributing to the JSF program, with nine companies contracted to deliver components and support on an ongoing bases and a number of other businesses involved in the earlier production phases of the program.
In total, Victorian-based manufacturing businesses have completed 70% of all work awarded to Australia over the past decade, with Marand completing the most manufacturing work of all companies involved in the JSF program.
On his visit to Marand's facilities on Monday, Premier Andrews criticised the Abbott Government for awarding lucrative defence contracts to foreign companies at the expense of local defence manufacturers.
"Our defence assets are the core of our national security. They're paid for by Australian taxes, they should support Australian jobs," Mr Andrews said in a statement.
"Victoria has outstanding defence manufacturers, leading on the global stage. They have the capacity, they have the skills, they just need Tony Abbott to place the order. We will fight for Victoria's fair share of defence work and for the industry's future in Australia."
Minister D'Ambrosio said the defence technology industry was one of the six sectors that the Labor Government was targeting through the $200 million Future Industries Fund.
"The $200 million Future Industries Fund will create jobs and growth in the defence technology industry now and into the future," the Minister said.
"We're getting on with boosting the industry. Our Defence Procurement Office based in Geelong will market the skills of Victorian manufacturers to the biggest defence contractors in the world."