Quickstep Holdings Limited has received a $1 million grant from the Australian government through the Department of Defence's New Air Combat Capability Industry Support Program.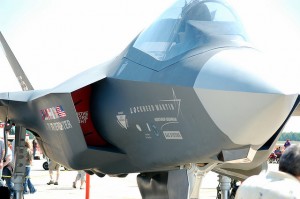 According to the company's media release the grant will assist in the qualification of the Quickstep Process for manufacturing vertical tail spars of the F35 Lightning II Joint Striker Fighter. The vertical tail spars would provide stabilisation for aircraft in flight.
Quickstep Managing Director Philippe Odouard expressed his gratitude to the Australian Government for its support and said the new development could assist other companies in producing JSF components more efficiently.
"We are grateful to the Australian Government for its continued support which provides funding to take us through to production. The Quickstep Process offers a new efficient way to produce JSF components at reduced cost while improving quality. This could assist Lockheed Martin's affordability initiative program to reduce F-35 costs for the program's partner countries," said Mr. Odouard.
The New Air Combat Capability Industry Support Program aims to foster the development of new or improved Australian industry capabilities that directly support the JSF program. The $1 million grant for Quickstep will be funded by the Defence Materiel Organisation (DMO) and administered by AusIndustry.
The grant will help the carbon-fibre composites manufacturer make a case for changing the JSF's spar-making technology from the autoclave to the Quickstep Process. Quickstep already manufactures spars using autoclave systems but the liquid-based process offers a faster and more cost-effective way to manufacture parts in series.
With the grant, Quickstep will be able to produce demonstration parts and qualify its facilities in Bankstown Airport to use the production method for JSF spars.
The Quickstep Process works by surrounding raw carbon-fibre and resin with heated liquids which transfer heat 25 times faster than the traditional autoclave method. This enables the components to be cured more efficiently at a lower cost.
"If qualification is successful it should be accepted as an alternative to the JSF program's standard curing technology. This is exciting as it will showcase our capability for tail production and, as the program develops, the Quickstep Process' potential use to develop entire wing structures for next-generation commercial aircraft manufacturers," said. Mr. Odouard.
The international F-35 Lightning II Joint Strike Fighter (JSF) program is the largest military aerospace program in the world, valued in excess of US$300 billion worldwide. The Australian Government joined the F-35 program in 2002 and recently reaffirmed its commitment to the program by announcing its intention to operate three squadrons of F-35s beginning in 2020.