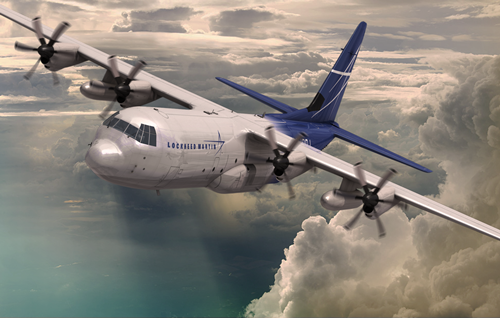 Advanced composites manufacturer Quickstep Holdings announced that it will be supplying wing flaps for Lockheed Martin's new LM-100J commercial freighter.
The LM-100J, which was recently unveiled at the 2017 Paris Air Show, is based on the C-130J Super Hercules military tactical airlifter and delivers unmatched versatility and proven workhorse capabilities of its military counterpart to commercial operators.
Speaking from the Paris Air Show at Paris-Le Bourget Airport in France, the company's recently announced CEO and Managing Director, Mark Burgess said:
"The Quickstep team is extremely proud to be the supplier of wing flaps for the LM-100J in addition to the C-130J military version of this aircraft," he said.
"The introduction of the LM-100J signifies a new chapter in Hercules operations and we are proud to be a part of this new platform that will truly change the commercial freighter marketplace."
Mr Burgess, who joined Quickstep team in May following a four year stint as Vice President of Honeywell Aerospace Asia Pacific, said the company has 'significant growth opportunities' in multiple sectors.
"I am genuinely excited about Quickstep's future. We are generating positive cash flow from our aerospace operations and, having concluded a significant capital expenditure program at Bankstown, are successfully supporting very significant increases in Joint Strike Fighter (JSF) production volumes with existing funds that meet our ongoing working capital requirements," he continued.
"We will invest substantially in business development to leverage our value proposition more effectively in both aerospace and new technology. Whilst growth remains our priority our business will also be focusing more clearly on costs and returns."
Image credit: www.lockheedmartin.com