RayGen Resources Pty Ltd — the leading developer of utility-scale concentrated solar photovoltaic technology — has completed stage one of an innovative solar power test facility in Bayswater.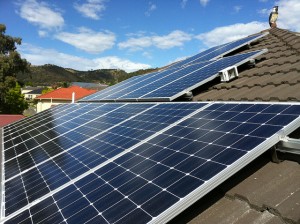 The company claims that they are developing a technology that could be "the cheapest in the world" and could sky-rocket Australian exports of high solar components up to $1 billion or more by the end of the decade.
According to the Herald Sun, the pilot plant is a precursor to a 200kW demonstration plant that will be built this year near the central Victorian town of Newbridge, near Bendigo.
RayGen Chief Executive Bob Cart said the new plant  will create up to 20 jobs over the next year, with a further 80 people contributing specific skills.
"We've only scratched the surface, with the potential for Australian CSPV solutions to reach $1 billion in exports by the end of the decade," Mr Cart said.
The plant was supported by A$1 million grant by the Victorian Government.
Energy minister Russell Northe officially opened the Bayswater site.
"The pilot plant will allow RayGen to refine the technology in preparation for commercialisation, which will open up new investment opportunities, create more jobs and help secure Victoria's long term energy future," Mr Northe said in a statement.
"This technology has great export potential and promises to be a huge boon for Victorian jobs. As our manufacturing industry evolves, with a focus on innovation, more highly-skilled jobs will be created for Victorians."
Earlier this year, RayGen signed a $60 million deal with a Chinese company to manufacture and distribute some of the large components of the technology, but plans to retain the "high-tech" portion.
RayGen was part of the Federal Government's trade mission to China in April this year. The company has been awarded a total of $2.75 million in Federal and State government grants since it was established in 2010.
"The Napthine Government has backed this project as part of our commitment to delivering safe, reliable and affordable energy and to building a better Victoria," Mr Northe said.
"Today, renewables make up 25 per cent of all of Victoria's energy generation capacity — more than double than when we came to office."
Under the Coalition Government, around $19 million in grants have been awarded to sustainable energy R&D and pilot projects such as RayGen's CSPV pilot plant.