Baxter was launched in 2012. Since then, Rethink Robotics updated Baxter several times in order to improve the speed and accuracy of the robot's ability to perform automated manufacturing tasks.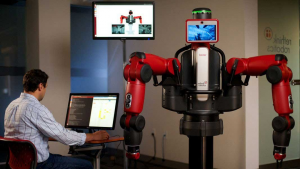 About a month ago, Baxter arrived in Australia when SA national automation and control services company SAGE Automation was appointed the Australian distributor for the Baxter robot.
Smaller and more flexible than Baxter, Sawyer is a single-arm, high-performance robot designed to execute machine tending, circuit board testing and other precise tasks that have historically been impractical to automate with traditional industrial robots.
According to the company's announcement, Baxter and Sawyer can address many of the estimated 90 percent of manufacturing tasks that cannot be feasibly automated with traditional solutions today.
"With Baxter, we introduced the concept of robots and people working together on the plant floor," said Rethink Robotics president and CEO Scott Eckert.
"With Sawyer, we have taken that relationship to the next level, with a high performance robot that opens the door for many new applications that have never been good candidates for automation.  As we continue to redefine this industry, we also continue to give manufacturers new ways of adding efficiency and flexibility into their operations."
Sawyer weighs 42 pounds and can carry up to 9 pounds. It has a tight 1 meter reach, it includes force-sensing at the joints and supports barcode scanning and object recognition.
At $29,000 per unit (compared with $25,000 for Baxter), manufacturing plants that are facing massive labour shortages can rely on Sawyer to perform its tasks quickly and efficiently.
Jabil, a global electronic product solutions company is one of the early adopters and field testers of Sawyer.
"Flexible automation that addresses shrinking product lifecycles and helps companies align with consumer trends is a critical technology initiative for manufacturers," said John Dulchinos, Vice President of digital manufacturing at Jabil.
"Rethink Robotics continues to lead the way in defining how workers and machines can coexist to leverage the strengths of each, and optimise productivity for all."
Sawyer will be released with limited availability in the summer of 2015, with general customer availability targeted for later in the year.
For more information, visit www.rethinkrobotics.com.