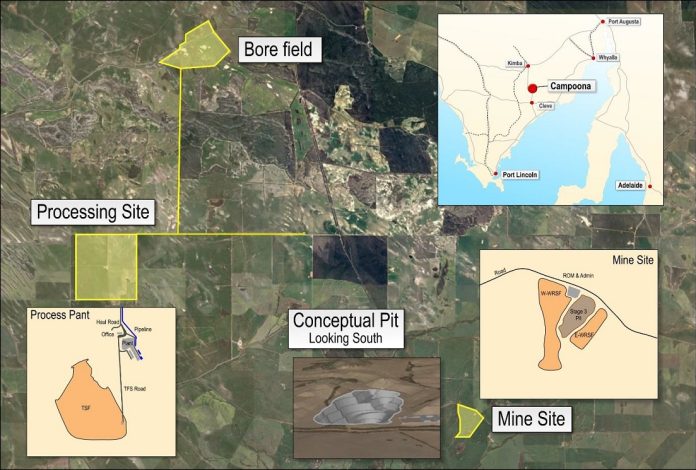 South Australian Mineral Resources Minister Tom Koutsantonis has announced that Archer Exploration has been granted approval for its Campoona graphite project, located north of Cleve on the Eyre Peninsula.
The proposed graphite project, which includes an open-cut mine and a mineral processing facility at nearby Sugarloaf to eventually produce up to 140,000 tonnes of graphite ore a year, is expected to create about 60 jobs during construction and about 35 ongoing positions.
Mr Koutsantonis, who made the announcement at the South Australian Exploration and Mining Conference at the Adelaide Convention Centre, said Campoona was a further example of SA's growing role as a global supplier of a broad range of mineral products required by emerging technologies.
"An exciting aspect of this proposal is the capacity to locally produce high-value graphene, which is becoming a sought-after ingredient in emerging technologies such as solar cells," the Minister said.
Archer's Executive Chairman, Mr Greg English, said the announcement was 'a very significant milestone' for Archer in the development of the high grade Campoona Shaft graphite deposit.
"With an exceptional resource, Campoona Shaft is a valuable and strategic asset with the potential to make a significant contribution to Archer shareholders from our maiden mining and revenue stream," Mr English said.
"The South Australian Government has publicly supported mining on multiple occasions and South Australia has been ranked as the world's 13th most favourable mining jurisdiction in recent Fraser Institute survey."
"Given rising geopolitical risks in Tanzania and other regions that produce graphite, we expect that our potential customers will value the supply security that Archer can offer." said Archer's Executive Chairman, Greg English."
The ASX-listed company, which applied for the mining lease and two miscellaneous purpose licences through its wholly-owned subsidiary, Pirie Resources, said the project will produce graphite for the rapidly-growing lithium-ion battery industry.