Seeley International has invested heavily in the development of a state-of-the-art tube bending cell at its Albury factory in NSW, which is expected to secure and grow its local workforce.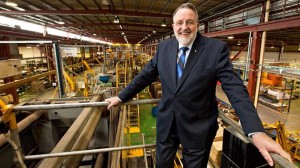 Seeley International founder and Executive Chairman, Mr Frank Seeley AM revealed the fully automated tube bending manufacturing cell, which is believed to be the first of its type in the Nation, was officially opened in early August by NSW Premier the Hon. Mike Baird.
"The concept for this technology was first discussed more than a year ago, and came about because we wanted to support our workforce by manufacturing heat exchanger tubes in-house for our ducted heaters in Australia rather than having to go to overseas for cost-efficient supply," Mr Seeley said.
"With the support of the Seeley International Board, a project plan was developed and demonstrated that this would be a highly viable investment if it adopted innovative technology to automate the processes as much as practical," he added.
According to a Press Release from Seeley, the new manufacturing technology has resulted in the process being fully integrated, with two tube benders, one end former and three robots all working in sync to transform pipes of varying lengths and diameters so that they fit perfectly into a premium quality, highly energy-efficient heat exchanger.
"These components were being externally sourced from a supplier that was using imported tube, and escalating production and supply costs meant having to consider sourcing them offshore – but our manufacturing process has reduced costs, taken the quality to an even higher standard, and kept this work in Australia," Mr Seeley said.