Shipbuilding delegates from the Australian Manufacturing Workers Union have continued to build pressure on Australia's politicians to make it clear where they stand on funding the industry's future after a series of meetings with MPs at Parliament House in Canberra last week.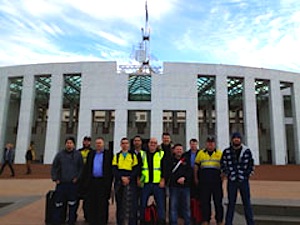 According to a statement on the AWMU website, senior politicians from both Labor and the Coalition, as well as independents, took time away from chaos that has engulfed Parliament to listen to the AWMU from the shipyards.
Although many voiced support for the cause, the key question for delegates remains what funding and projects will be committed to see the shipbuilding industry over the 2015-2017 shortage of work. Which is an essential strategy for a longer term build-up necessary for producing the next submarine fleet and assuring a long term maritime engineering industry.
As the election draws closer, eleven shipyard delegates from Forgacs, ASC, INCAT and BAE informed the Government ministers and Coalition shadow ministers that the time to provide clear answers was running out.
"We had good meetings with 15 MPs across two days and we gave them a bipartisan understanding of the challenges and the opportunities there for the industry. But we don't yet have the bi-partisan policy approach we'd like to see," said AMWU Assistant National Secretary Glenn Thompson.
AMWU has revealed twelve of the 15 members who met the delegation have signed the pledge, including Defence Materiel Minister Mike Kelly, who will be releasing the navy construction plan in the coming weeks revealing the  answers on what projects and funding this Labor Government is prepared to bring forward to cover the 2015-2017 "valley of death" threat for the nation's shipyards.
'At stake over coming decades is a potential $250 billion of work on 48 navy vessels which could sustain an expanded Australian industry, but central to that is maintaining skills through constant work in the run-up to the submarine project,' AMWU.
The AMWU is making a renewed request for members and their families to get on board the shipbuilding campaign. To join up and see which MPs have so far signed the pledge to do all they can to ensure future vessels are designed, built and maintained in Australia, CLICK HERE.