Australia's defence industry association proclaimed the "end of Australian naval shipbuilding capability" following the information that interstate shipyards are set to close next year.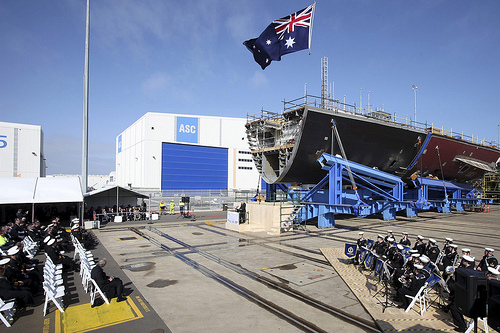 According to the news article on The Herald Sun, Defence Teaming Centre chief executive Chris Burns said on Wednesday that South Australia lacks the capacity to make up for the workforce gaps should the nation's other main shipyards in Newcastle, Melbourne and Perth close by 2015.
With shipyards' contracts in Newcastle and Melbourne set to expire next year, the Australian Manufacturing Workers' Union warned in its submission to the Federal Government that they could close in 2015.
"Newcastle, which is making modules for the Air Warfare Destroyers, their work will conclude next year," said Mr Burns.
"Some work was taken from them and given to BAE in Melbourne. By next year that work will be completed. What that will herald is the end of Australian naval shipbuilding capability."
Mr Burns also warned that the country does not have the capacity to compensate for the loss of skilled workforce.
"(Next year) the workforce will dissipate. They'll go to mining, or overseas, or to other industries," he said.
According to him, the only way to avoid the skilled workforce disappearing before new projects came in was for the Government to bring forward major projects and ensure a continuous flow of work.
AMWU says that "it is likely two or three shipyards will close", which will result in workforce and capacity shortages once shipyards re-open and work picks up again.
A spokesman for Federal Industry Minister Ian Macfarlane blamed the Labour party for the havoc of the country's shipbuilding industry. According to him, current problems are down to continuous budget cuts imposed by the Labour Party in the last few years.
He also said that they would put out a new Defence White Paper and Defence Capability Plan within 18 months.
"The Minister for Industry has also initiated economic reviews of the states of South Australia and Victoria as those states in particular transition to a new period of manufacturing and competitiveness," he said.
"The South Australian review will examine all key industry factors in that state, including the important marine and naval industries."
Defence Industries Minister Jack Snelling said the matter requires urgent response.
"The Commonwealth Government needs to urgently address the validity of those shipyards interstate. It would have major implications for the Future Submarine Project in Adelaide if they were to close," he said.