American power tools manufacturer BLACK+DECKER is introducing a streamlined global brand identity for its consumer branded power tools, outdoor power equipment, and home products.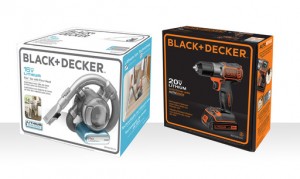 According to the company's press release, the new BLACK+DECKER logo was designed to be simple, clean and powerful. After collaborating with the company's employees, customers, end-users and other key stakeholders, brand strategist and design consultant Lippincott came up with a new identity that modernises one of the most recognisable brands in the world, paring it down to a simplified and focused redesign.
"Over the years BLACK+DECKER has consistently provided consumers with innovative, affordable, and quality products. As a result of this, the brand is deeply entrenched in and around the home," said Frank DeSantis, Director of Brand Marketing.
"The BLACK+DECKER brand extends beyond product features and product innovation, it is about being honest, intuitive, involved and thoughtful. Everything we do will be focused on giving people the products, the knowhow and the support to get their job done."
The logo, which used to feature an ampersand, now uses a plus sign to connect the words "BLACK" and "DECKER". The logo text is done in a vibrant orange shade on black background, and grey on white background, sans the hexagon that used to accompany the name.
To build on their position as a strong global brand, the company says they will launch new products and marketing campaigns to modernize the brand.
"With a heritage of more than 100 years as one of the most trusted brands in the world, the new BLACK+DECKER identity builds on that trust of providing innovative and reliable products while also providing consumers a meaningful, emotional and empowering experience for the home," said BLACK+DECKER on their release.
The new brand identity will begin to transition at retail and into marketing efforts over the course of this year.