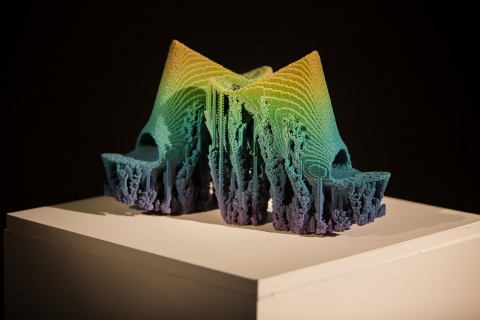 3D printing and additive manufacturing solutions company Stratasys has announced that some of its most high-profile 3D printed fashion pieces are headlining #techstyle, a new co-curated exhibition with Lauren Whitley and Pam Parmal at the Museum of Fine Arts Boston (MFA) (6 March – 10 July 2016).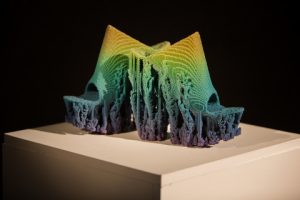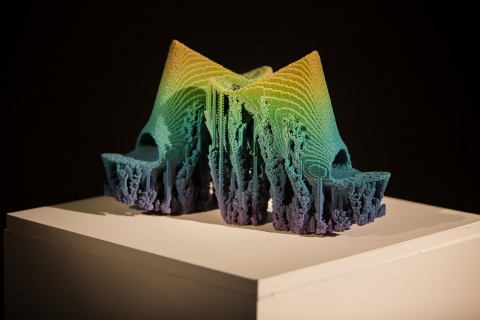 The exhibition, which explores the synergy between fashion and technology, includes "Anthozoa", a 3D printed cape and skirt designed by Professor Neri Oxman and Iris van Herpen; "Harmonograph" 3D printed dress designed by threeASFOUR and Travis Fitch; as well as 3D printed "Molecule" shoes designed by Francis Bitonti.
Michelle Finamore, Penny Vinik Curator of Fashion Arts, Museum of Fine Arts, Boston, said the Stratasys 3D printed pieces demonstrate designs where the attributes of the technology have been "central to creating" complex geometries, not possible using traditional methods.
"I think one of the most amazing aspects of 3D printing is that it enables the fashion designer to move beyond conventional sketching and draping methods and allows them to imagine and conceive a garment in three dimensions," Ms Finamore said.
"Many of the designers represented in #techstyle have harnessed Stratasys' unique multi-material 3D printing technology, and the process is integral to the actual creation of the pieces. Francis Bitonti's shoes, for example, seek to mimic organic cellular processes which cannot be controlled, yet he was able to "grow" the shoes in a way that's simply not possible with other forms of production."
The 3D printed Harmonograph dress, which recently lit up the New York Fashion Week catwalk, circles around the body in three spirals, following the geometry of the Fibonacci sequence and optically portraying the effect of a harmonograph.
Another outcome of this technology is the elaborate 3D printed skirt and cape "Anthozoa", which dazzled the catwalks of Paris Fashion Week in January 2013 as part of Iris van Herpen's Haute Couture show, 'VOLTAGE'.
This elaborate 3D printed piece – created in collaboration with Professor Oxman – incorporates hard and soft materials within the design which is crucial to the movement and texture of the piece, allowing Oxman and van Herpen to design a "second skin" for the body acting as armour-in-motion.
Naomi Kaempfer, Stratasys' Creative Director said the designs were entirely dependent on the new possibilities that Stratasys multi-colour, multi-material 3D printing is able to provide, most notably the ability to mix both rigid and rubber materials to any degree of flexibility, in any colour, within a single print.
"3D printing provides new design possibilities, enabling designers to innovate and create unique expressions with complex geometries that would not be possible with traditional methods of production," she said.
"The better we become in generating organic parametric geometries in design the closer we get in appreciating our own organic code of beauty. This sense of full creative freedom enabled by Stratasys 3D printing technology is evident in the incredible pieces designed by our collaborators, which we are proud to showcase as part of #techstyle."