Tasmanian manufacturer Elphinstone Group has partnered up with the Australian branch of Israeli-based Elbit Systems to bid for the multi-billion dollar defence project LAND 400.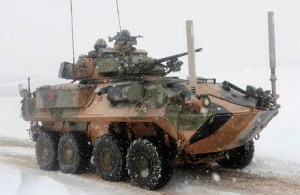 Team Sentinel has put forward its SENTINEL II platform – an integrated combination of the in-service Singapore Technologies Kinetics TERREX 8X8, the in-production Elbit Land System's MT30 turret, and a networked combat system forming the next generation of the Australian Army's current Battle Management System.
Tasmanian Premier Will Hodgman welcomed the announcement and said that the State Government of Tasmania supports Team Sentinel's bid for a share of the Commonwealth's $10 billion LAND 400 project.
"The Elphinstone Group's role in the Team Sentinel bid for this major defence contract is a demonstration of Tasmania's advanced manufacturing capabilities. The Tasmanian Government has supported the Elphinstone Group and Team Sentinel's bid for this contract, and will continue to do so. The Elphinstone Group will provide manufacturing and systems integration services from Tasmania to Team Sentinel in Geelong, should they be successful in securing the contract," the Premier said in a statement issued on Friday.
"We want to see Tasmania secure a larger share of national defence spending, to support economic growth and create jobs across our state. This is why we are also supporting the state's Pacific Patrol Boat bid, and we will release a Defence Industries strategy soon. The Tasmanian Liberal Government is committed to backing our competitive strengths to create jobs and grow the economy."
Team Sentinel said that it will establish its LAND 400 operations in Geelong if it wins the military vehicle manufacturing contract.
Federal Member for Corangamite, Sarah Henderson and Geelong Mayor Darryn Lyons welcomed the announcement.
"This bid centres on Geelong becoming the national hub for armoured fighting vehicle development and integration – starting with the Land 400 solution. We're talking 100 Team Sentinel jobs, with a flow on of an additional 200 indirect jobs, should the offer be selected," said Mayor Lyons.
"It's a price competitive bid that comprises more than 60 per cent confirmed Australian local content. Manufacturing and assembling turret in Geelong and integrating that onto the vehicle is a real coup for the region and a vote of confidence in the region's advanced manufacturing capabilities and future. We have the skills, the experience and the infrastructure right here in Geelong to fulfil the Land 400 contract. We have the access to markets and suitable local testing conditions to support an immediate start. We're ready to hit the ground running with this."
Ms Henderson said that Geelong companies will also benefit from the project.
"Geelong companies will have the opportunity to play a vital role in this project including in relation to component and parts supply, integration of Australian communications, sensor and weapons systems, engineering and testing facilities, and vehicle sustainment and logistics," she said.
"This news clearly demonstrates that we have the skills and experience that can support the provision of Australian Defence infrastructure and equipment. Strategically, I believe our region is the best possible location for producing this new combat vehicle for the Australian Army."