Boeing has officially opened its new research and technology centre in South Carolina that will focus on conducting research in advanced manufacturing fields, including composite fuselage and propulsion systems.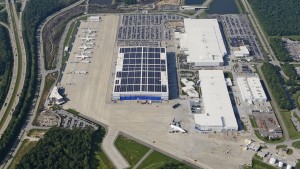 The new facility has laboratories where scientists and engineers will research and develop technologies in advanced production systems, non-destructive evaluation and inspection, production analytics and advanced test systems, structural repair technologies, electromagnetic effects, chemical technology and composite fabrication and material.
The company commenced construction of the 104,000-square-foot centre in the beginning of last year. Boeing's other US research centers are in Alabama, California, Missouri and Washington.
"This new research centre will help us better meet the needs of our customers by enhancing our ability to provide effective, relevant technology in today's competitive marketplace as we enter our second century of business," said John Tracy, Boeing chief technology officer and senior vice president of Engineering, Operations & Technology.
"The people and facilities we're introducing today will help us apply new technology and solutions to our products across the entire company faster and more efficiently than ever before," said Lane Ballard, leader of the Boeing Research & Technology-South Carolina centre.
For Boeing South Carolina vice president and general manager Beverly Wyse, the new center shows the company's continued commitment to South Carolina.
"Increasing our research and development footprint here demonstrates our continued commitment to the state of South Carolina, and will help Boeing and the region attract, develop and retain the best talent in the industry," said Wyse.