Demanding Victoria's Coalition Government to support local jobs, more than 500 workers have rallied this week  after allowing the steel on a major government dock expansion to be brought in from overseas.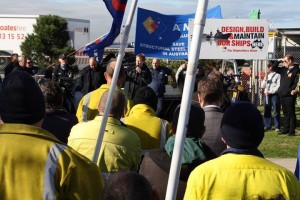 The Australian Manufacturing Worker's Union (AMWU) has announced that the Napthine Government allowed McConnell Dowell — a leading engineering, construction, building and maintenance contractor — to source 27,000 tonnes of steel from South Korea, with at least two major local suppliers being locked out, losing the chance to shore up 1600 metal industry jobs.
The AMWU has mobilised other unions to march outside the Webb Dock site in Port Melbourne, vowing to campaign so the Napthine Government and Labor Opposition both commit to maximising local content on major infrastructure projects which are central to November's state election.
The unified chant from members and those of the AWU, MUA and CFMEU have said "Our taxes – our jobs".
"We've seen the problem in WA, where structural steel is imported whilst local metalworkers are made redundant, they've done it in Queensland and here is the Victorian situation," said AMWU Victorian State Secretary Steve Dargavel.
"We know that you build it here or jobs disappear."
Mr. Dargavel has believed it was a disgrace that there was enough foreign steel to employ hundreds of  Victorian metalworkers being unloaded at Webb Dock, when in fact it should have been produced in Australia.
Mr Dargavel added that the attitude of the Napthine Government on local content was a huge threat to jobs in Victoria's steel and manufacturing industries.
"This Government  wants to be re-elected on the jobs benefit of $27 billion of major state projects, but what is the point for us if all the jobs are created in Korea?" he asked.
Assistant State Secretary Craig Kelly revealed the recent Korean free trade agreement would only worsen matters.
AMWU has announced the last chance to block the Korean FTA being ratified is in the Senate, with AMWU members urged to voice their opposition.