Team Sentinel, a consortium of companies primed by Elbit Systems of Australia, which is one of four groups that are bidding for the $2.7 billion contract to manufacture 225 Land 400 armoured vehicles, has unveiled its prototype Sentinel II vehicle.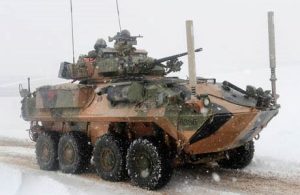 The lucrative contract for designing, engineering, manufacturing and maintenance of the Land 400 Sentinel Military Vehicle would result in the opening of 1,000 jobs.
Funded by the Federal Government's Defence Capability Plan, the Land 400 Sentinel project is the world's largest armoured vehicle project that could transform Geelong into an advanced manufacturing hub.
The nature of the program requires high-technology manufacturing, advanced composite production, software development and maintenance, vehicle system integration and logistics skills.
Elphinstone will build the hull and engine of the vehicles, while CBG Systems in Hobart will add its stealth blanket technology.
The project is set to generate an estimated 150 jobs at Elphinstone over five years and 20 at CBG.
Tasmanian Premier Will Hodgman said the unveiling of the Sentinel vehicle is major milestone for Team Sentinel and Tasmania.
"Team Sentinel's prototype, could be the beginning of the next combat reconnaissance vehicles that will be protecting Australian troops from 2020.  And, for Tasmania, this could be the emergence of another competitive strength; defence manufacturing. Over the next few months Team Sentinel will be refining its offer and finalising its vehicle development with Tasmania's Elphinstone's support," Mr Hodgman said.
According to him, more $30 billion is spent every year on defence, and Tasmania gets less than 0.03 per cent of that amount.
"Earlier this year we launched Our Fair Share of Defence Strategy. The strategy will target our fair share of defence spending by attracting, enabling and building defence industries in the State and promoting Tasmania as both a military supplier and a port for our Southern Ocean responsibilities," the Premier said.
"The Tasmanian Government has been proud to support the bid. While there are a many stages ahead, we will continue to support Team Sentinel every step of the way."