During the summer, Tesla Motors announced that it will be implementing certain upgrades in its Fremont electric vehicle factory in order to increase production capacity of the Model S and make room to begin production of the Model X crossover.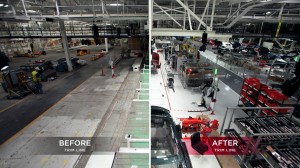 Last week, the company revealed a time-lapse video of the upgrade process in a blog post to show what really went on at the plant.
Tesla added new massive robots on its general assembly line. These robots speed up the production process and can lift and manoeuvre entire cars. Further, they're all named after X-Men characters.
"The most dramatic changes are to be found in general assembly, where we've eliminated a lot of overhead steel and mechanical structures in favour of advanced robots that can lift and manoeuvre entire cars with optimum precision while taking up less room. Soon, our new robots will even be able to install battery packs in the cars, relieving humans of the most labour-intensive operation in the factory and reducing installation time from four to two minutes," it says in the blog post.
"Xavier stands at the entrance to the trim line, lifting cars down to the floor from an electrified rail, while Iceman, Wolverine, and Beast do more heavy lifting nearby. Storm and Colossus can be found at the end of the chassis line, and Vulcan and Havok work as a team to lift cars back onto the rail. To us, these robots are like superheroes, so we figured they deserved superhero names."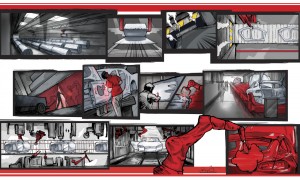 The company also set up a more efficient floor plan, opened a new factory section for the fastest accelerating sedan in the world – the Model S P85D – and installed conveyor belts and robots to the plant's powertrain section. Now, Tesla has the capacity to process 1 million battery cells per day, up from 800,000.
The company also installed skylights and replaced fluorescent lights with energy-saving LED lamps.
Aside from painting previously grey walls and floors bright white, a few novel touches were also added.
"We wrapped several pillars with climbing plants to add some greenery to the surrounds. We had a comic artist depict the manufacturing process in a series of illustrations, which we've printed on the glass walls enclosing some of the robots. And we added a wall of framed photos showing the factory building in different guises over its 54-year life," it says in the blog post.
Last year, Tesla produced more than 22,000 cars; this year, the company is on track to build about 35,000. By the end of 2015, it will have increased production by another 50%.