More than 9,000 manufacturers, industry operators and analysts from around the globe had a chance to learn how to optimise their assets, lower their total cost of ownership and improve enterprise risk at Automation Fair® 2014 – an annual event hosted by Rockwell Automation and the members of its PartnerNetwork program.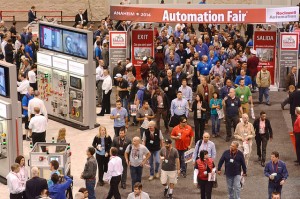 At the event, attendees had free access to the industry's best suppliers in automated control, information solutions, and advanced automation technologies.
Day One of the 2014 Automation Fair event – which Rockwell Automation designed to help improve customers' innovation, productivity and collaboration through discussions, technical education sessions, and hands-on labs – focused on The Connected Enterprise, allowing attendees to learn how in can fundamentally change the way manufacturers and producers do business.
"This year's Automation Fair event is helping attendees learn how to realise The Connected Enterprise through linking intelligent assets and optimising industrial operations, in turn making their organisations more globally competitive and productive," said Keith D. Nosbusch, Chairman and CEO, Rockwell Automation.
"Attendees are seeing firsthand how knowledge-enabled strategies – made possible by our Integrated Control and Information portfolio of products, services and solutions – are helping companies accelerate smart, safe and sustainable business performance."
Many process automation professionals arrived early in Anaheim to participate in the annual Rockwell Automation Process Solutions User Group (PSUG) meeting, which took place on 17 and 18 November. Operations, IT and engineering professionals in process industries selected from 20 educational sessions and networked with peers and leaders. They also gave feedback that will help direct development priorities for the PlantPAx process automation system from Rockwell Automation.
On 18 November, global media and industry analysts attended the half-day media forum, Automation Perspectives, to hear how manufacturers and producers are operationalising The Connected Enterprise.
Industry leaders and Rockwell Automation executives discussed the benefits of Connected Enterprise implementation – such as improved flexibility and agility in meeting demand – and its challenges, including increased security risks.
Speakers addressed the role of information-enabled machines at the site-level, best practices for employee training and utilization, and ways to manage uptime in facilities. They also discussed the role of remote asset management, business growth with their customers, and how MES brings it all together.