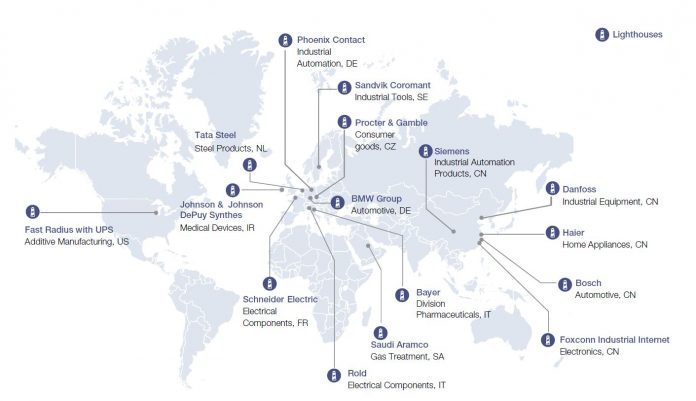 The World Economic Forum has welcomed seven new factories to its network of "Manufacturing Lighthouses" which have been designed to help industries adopt and integrate the cutting-edge technologies of the Fourth Industrial Revolution. 
The new factories, which include BMW's Regensburg Plant in Germany and Foxconn's  Shenzhen factory in China, join a group of nine others which were selected from an initial list of 1,000 manufacturers based on their successful implementation of Fourth Industrial Revolution technologies in ways that have driven financial and operational impact.
Earlier research by the Forum, which also released their white paper, Fourth Industrial Revolution: Beacons of Technology and Innovation in Manufacturing, showed that seven out of ten businesses that had invested in technologies such as 3D printing, big data analytics or artificial intelligence had failed to move beyond the pilot phase.
To rectify this, all Lighthouses in the network have agreed to share their knowledge with other manufacturing businesses.
The BMW car plant, which manufactured approximately 320,000 vehicles in 2018, started using the custom BMW internet of things platform, which led to, among other things, a significant reduction in logistics costs and 5% reduction in quality issues.
Foxconn's "Lights off factory", which specializes in components for smartphones and other electrical equipment, boasts a fully automated manufacturing process with machine learning and AI driving auto optimization of equipment, smart self-maintenance and real-time status monitoring in smart production.
Its Fourth Industrial Revolution-first approach has resulted in efficiency gains of 30% and lowered its stock cycle by 15%.
Helena Leurent, Head of the Shaping the Future of Production System Initiative at the World Economic Forum, said the 16 factories of the Lighthouse programme – which has been conducted in collaboration with McKinsey – represent a turning point in the Fourth Industrial Revolution.
"Lighthouse factories are found in companies large and small, in all industries and regions. Rather than replacing operators with machines, lighthouse factories are transforming work to make it less repetitive, more interesting, diversified and productive," Ms Leurent explained.
"Rather than staying within the factory walls, Lighthouses build a broad innovation system with business, government and civil society. Beyond local pilots, Lighthouses create value and resilience through the supply chain, and agility and responsiveness for customers.
"Technology, deployed wisely in our manufacturing and production system, can create a better, cleaner world. We hope this network can be a source of inspiration to help break out of productivity stagnation and deliver the maximum positive benefit for society,"
The remaining factories that joined the network of Manufacturing Lighthouses include Danfoss, Commercial Compressors (Tianjin, China); Rold (Cerro Maggiore, Italy); Sandvik Coromant (Gimo, Sweden); Saudi Aramco Uthmaniyah Gas Plant (Uthmaniyah, Saudi Arabia); and Tata Steel (IJmuiden, The Netherlands).
The extended network will be officially presented at the World Economic Forum's Annual Meeting 2019, taking place on 22-25 January 2019 in Davos-Klosters.
Image provided