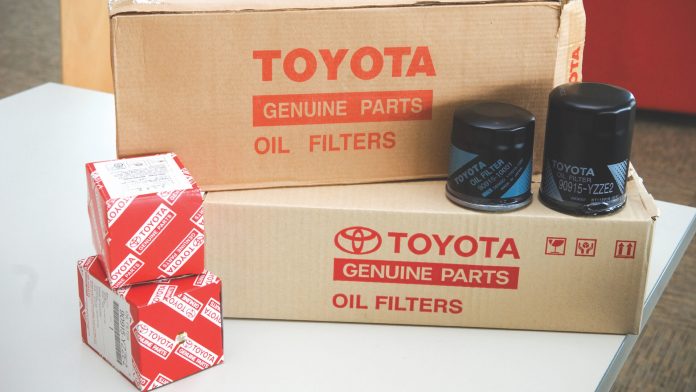 Toyota Australia is warning customers to be on the lookout for counterfeit parts when buying parts and accessories for their cars.
It comes after the company uncovered hundreds of cases' of counterfeit and fake automotive parts being sold to unsuspecting Aussie buyers as genuine Toyota parts.
The problem with fake spare parts and accessories has troubled Toyota Australia for years and since 2016 the company's Brand Protection team has successfully investigated and stopped more than 100 cases of fake, unsafe parts and accessories, from being sold as genuine.
Head of Public Affairs, Brodie Bott, said the newly discovered counterfeit products range from 'bogus badges and floor mats, to unsafe counterfeit brake pads'.
"Our Brand Protection team works closely with the Australian Border Force (ABF) to train their officers to identify and stop shipments of counterfeit parts and accessories from entering Australia," Mr Bott continued.
"We always try to determine the source of the counterfeit parts and work closely with Toyota affiliates overseas to stop the parts at the source."
He also assured the public that the company regularly carries out test purchases of parts marketed as 'Toyota Genuine' from online platforms, adding that those buying online from an authorised dealer are the most likely to get scammed.
"Our Brand Protection team also constantly monitors the market for counterfeit parts, including online stores such as eBay, then investigates offending businesses and takes action to stop them," Mr Bott said.
"Based on our monitoring and investigations, we have found that if you buy online and it is not from an authorised dealer, there is a 35% chance you are buying a counterfeit part."
Mr Bott also made it clear that damages caused by counterfeit parts will not be covered by the manufacturer's warranty.
"Toyota Genuine Parts sourced from authorised Australian Toyota dealers are the only parts approved and warranted by Toyota, and the only way to guarantee that the parts you are buying are genuine is to source them from one of Toyota Australia's national network of over 285 authorised dealers," he concluded.
Image credit: https://www.toyota.com.au