Toyota has announced a major recall of over 6.5 million vehicles worldwide due to a variety of problems ranging from faulty steering wheels to seats.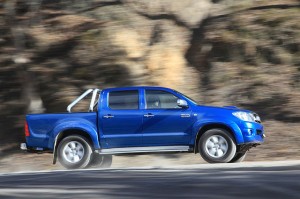 In Australia, Toyota will recall approximately 179,000 current generation Hilux vehicles built between April 2004 and December 2009, and approximately 118,600 previous generation Yaris 3 and 5-door hatchbacks and Yaris sedan vehicles built between June 2005 and May 2010.
According to the media release, the Hilux recall is due to the possibility that the spiral cable may be damaged when the steering wheel is repeatedly turned. The spiral cable is part of the supplementary restraint system (SRS) located between the steering wheel and the steering column. Once the spiral cable gets damaged, the driver's airbag may not deploy in the event of an accident.
Meanwhile, the recall of the Yaris hatchbacks and sedans is due to the possibility that when the seat is moved forwards and backwards frequently, the spring locking the driver's seat track in position may break. In another statement, the company said when the spring breaks within the seat track, the seat may not be able to be locked in position.
In Australia, there have been no reports of any accidents or injuries as the result of these conditions. The recalls are only meant to be preventative measures. It is not expected that all vehicles will experience these conditions.
Repair of the vehicles will take about an hour for the Hilux and about 1.5 to 3 hours for the Yaris, with all repairs to be conducted free of charge to vehicle owners.
In the rest of the world, the recall affects 2.3 MM vehicles in North America, 1.09 MM in Japan and 810,000 in Europe, including about 35,000 cars in the UK, according to a report on The Guardian. 
Affected customers will be notified of the recall by mail at their last known address and asked to make an appointment at an authorised Toyota dealer to have the spiral cable assembly replaced. For further information about this recall, customers can call the Toyota recall campaign helpline on 1800 643 242.