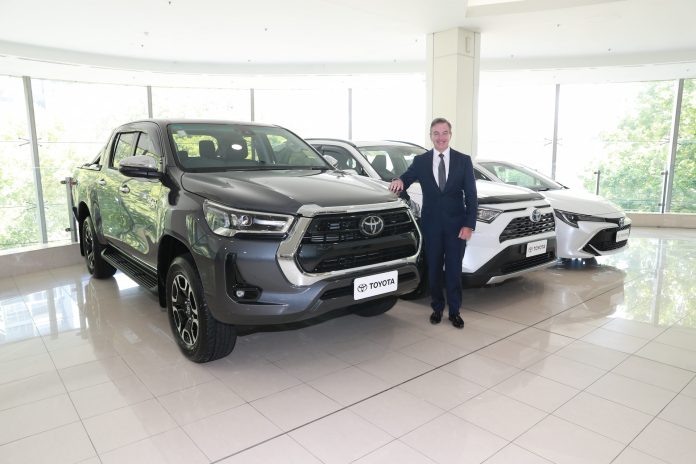 Toyota is celebrating 25 years as Australia's best-selling vehicle brand.
The company sold 223,642 new vehicles in 2021, its third-highest total on record and higher than the 204,801 vehicles its dealers sold in 2020 and the 205,766 delivered in 2019.
Toyota is the only brand to sell 200,000 vehicles in a single year, having done it in each of the last ten years.
In 1991-94, 1998, 2000, and every year since 2003, Toyota has been the market leader. The company had a market share of 21.3% throughout the last year.
For the sixth year in a row, the HiLux (52,801 sales) is Australia's best-selling car. With 35,751 deliveries, the RAV4 is Australia's best-selling SUV. 72.3% of these, or 25,850 vehicles, were electrified, making it Australia's most popular hybrid-electric vehicle.
The Toyota Corolla (28,768 sales) is the best-selling passenger car in the United States, a title maintained for the past nine years.
"We are progressively upgrading our range with vehicles that have new levels of connectivity, advanced safety features that are moving ever-closer to autonomous driving, shared services like KINTO and a rising number and widening range of electrified vehicles," said Vice President Sales, Marketing & Franchise Operations Sean Hanley in a media release.
"For 2022, given what we know right now, our target is to increase sales beyond last year's total and maintain our market share above 20%. We will freshen our existing line-up with the upgraded RAV4 range early this year, the Corolla Cross SUV and second-generation GR86 sports car in the second half, an update to the 70 Series workhorse, and we will also announce launch timing for our first BEV, the bZ4X SUV."
In addition, Toyota's contribution to its communities in 2021, included:
Voluntarily repaying over $18 million in JobKeeper payments (January)
Providing Toyota Community Trust grants of over $800,000 for STEM education
Delivering over 80,000 meals to front-line workers and vulnerable community members (140,000 in total)
Concluding the Sydney Legacy projects, awarding scholarships to high-school students and supporting education programs in Sydney's Sutherland Shire (now totalling $1.8 million)
Raising over $1.1 million for local clubs in the Good for Footy raffle
Raising over $820,000 for local cricket clubs in the Good for Cricket raffle, (2021-22 raffle in progress)
Passing the $12 million mark in support of community-based grassroots footy and cricket programs.
Funding new footy jumpers and shorts for 197 women's football teams.
Image credit: https://www.toyota.com.au/news/toyota-marks-25-years-as-australias-best-selling-automotive-brand