Toyota Material Handling Australia (TMHA) has launched its new BT Reflex O-Series Reach Truck which is designed to operate on outdoor surfaces.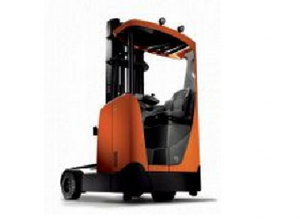 The truck features an increased ground clearance of 145mm and super-elastic tyres, which means it can operate on rugged, loose surfaces and provide secure grip on wet or high-temperature asphalt.
TMHA's BT & Raymond national sales and product manager, Dean Watson said the new BT Reflex O-Series RRE160R offers a new dimension to reach-truck capability.
"It combines the space-saving benefits of a narrow-aisle reach truck with the indoor/outdoor flexibility of a rubber-tyred counter-balance forklift," Mr Watson said in a media release.
"The RRE160R will give customers maximum flexibility, increase productivity and help reduce costs."
The truck has a payload capacity of 1600kg and lift heights up to 7500mm, making it ideal for use by hardware and garden stores, construction companies, dairy and farm producers, and warehouse operators.