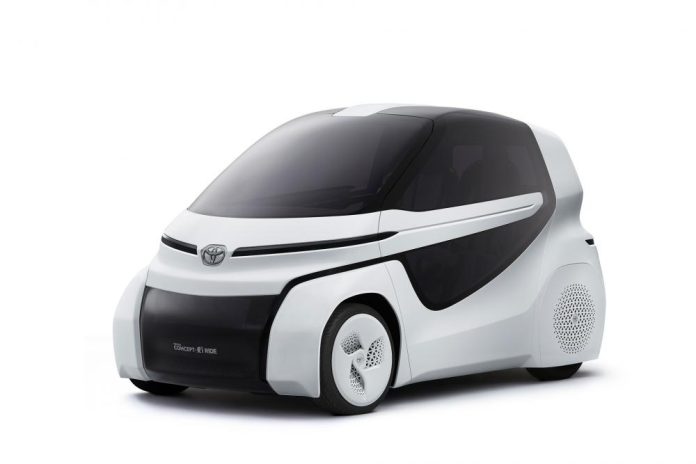 Toyota is set to unveil a family of three concept cars that define the company's vision for the future of mobility, where cars combine automated driving technology with artificial intelligence (AI) to estimate driver preferences and deliver maximum road safety.
The three vehicles – to be displayed at next week's Tokyo Motor Show – are all with electric drivetrains and feature the AI Agent that enables them to understand and learn from people.
Toyota said the vehicles expand on the ideas presented with the ground-breaking four-seat Concept-i, which was developed with a focus on building an immersive user experience.
The Japanese carmaker has now added the Concept-i RIDE, a two-seat vehicle designed to deliver freedom of mobility for wheelchair users and the elderly, and the Concept-i WALK – a vehicle designed to enable free movement on footpaths and other walking areas.
Featuring the AI Agent technology, Toyota's Concept-i is able to determine a driver's emotion and level of alertness by reading expressions, actions and tone of voice.
According to the company, it estimates the driver's preferences by comparing general information such as news on the web with information on individuals such as social media activity, GPS information, and conversation history in the car.
"Concept-i constantly monitors the driver's condition and the car, enabling it to switch to automated driving if the driver is overcome by a dangerous or high-stress situation," Toyota said in a statement.
"It will stimulate the senses to rouse drivers into an alert state when they feel drowsy, and help them feel more relaxed at times of higher stress."
"It also creates an "emotion map" by periodically plotting the driver's emotion and GPS data. By collecting data on individual emotions and using this information as big data, the Toyota Concept-i series can deliver fresh experiences by suggesting new, enjoyable routes as slight detours."
Toyota said the Concept-i RIDE, which features gull-wing doors, is equipped with an electric universal sliding seat and a joystick to achieve user-friendly operation with a range of 100-150km.
"Opening and closing of the gull-wing door supports loading and unloading of a wheelchair while an electric seat slides to the entrance for easy transfer between a wheelchair and the car. The wheelchair can be easily stored in the rear section," reads the statement.
"A joystick eliminates steering wheel, accelerator and brake pedals, making the vehicle easy to use by almost anyone. The compact vehicle size enables wheelchair users to park in regular single-vehicle spaces."
Designed for use in areas used by pedestrians, the Toyota Concept-i WALK has cruising range of 10-20km and offers short-distance movement such as between sightseeing spots.
The easy-to-operate vehicle features three wheels, a wheelbase variable mechanism and a low floor, enabling people to get on and off easily.
"Conversation with the Agent and data obtained from sensors in the handles. If the vehicle senses danger while moving, it will warn the driver and take avoidance measures," it says in the statement.
Toyota plans to carry out road tests of vehicles featuring some of the Concept-i functions in Japan by 2020.