Toyota has announced that its Kirobo robot – the first robot to utter a word in space – has completed a historic 18-month mission by returning to Earth on Thursday from the International Space Station (ISS).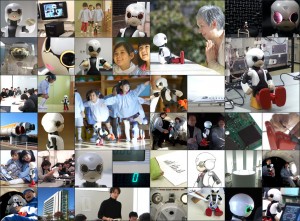 The company, whose role in the project focused on Kirobo's voice and face recognition technologies, said its engineers in Japan will now examine and analyse the results of conversation experiments conducted on board the orbiting laboratory.
Kirobo spent 558 days in space following extensive trials and tests which included a range of thermal, acoustic and electromagnetic analyses and zero-gravity simulations to ensure the android's inorganic nature would withstand the rigours of space.
Its mission began on 4 August, 2013 from the Tanegashima Space Centre in southern Japan. Later that month, Kirobo made history as the first robot to speak in space, declaring: "On 21 August, 2013, a robot took one small step towards a brighter future for all", and four months later, Kirobo and astronaut Koichi Wakata – the first Japanese astronaut to assume command of the ISS – took part in the first conversation between a robot and a human in space.
Commander Wakata's ISS expedition ended in May last year and Kirobo delivered a final message from space in August, thanking fans for their support, after which it was deactivated and readied for the return to Earth.
Kirobo is a diminutive robot standing at 34 centimetres and weighing about 1 kilogram. It is a product of collaboration between Toyota,  Tokyo-based communications firm Dentsu Inc, the University of Tokyo's Research Centre for Advanced Science and Technology (RCAST), Kyoto-based Robo Garage Co Ltd and the Japan Aerospace Exploration Agency (JAXA).
Toyota said that it plans to use the experience gained in space to improve the range of interactive conversation technologies in its automotive and personal robotic assistance products.