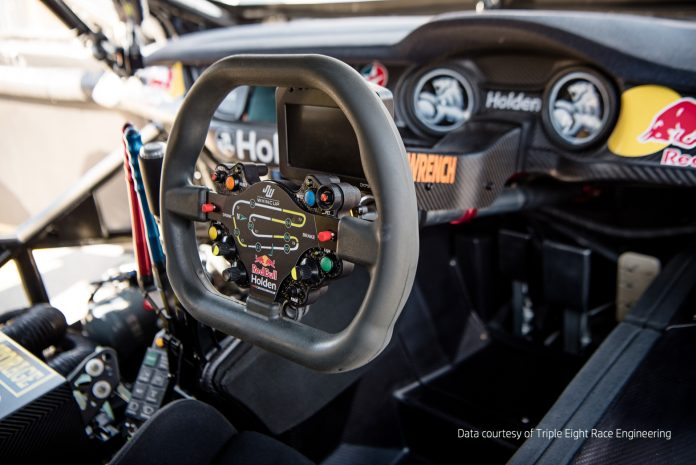 Media Release
By 3D printing customised parts for a racecar steering wheel, Triple Eight is able to accelerate production while decreasing costs.
Triple Eight Race Engineering—a.k.a. the Red Bull Holden Racing Team—is an Australian motor racing team that competes in the Virgin Australian Supercars Championship, Australia's premier motorsport category.
Parts inside the car need to be structurally fit-for-purpose and durable enough to endure the harshness and vibration that come with racing.  High temperatures inside the cars can exceed 65 degrees Celsius (149 degrees Fahrenheit).  During racing these cars reach speeds in excess of 300 kilometers per hour (186 miles per hour) and generate g-forces up to 2.5 times gravity.
In early 2017, EVOK3D (an Australia-based 3D printing solutions company and HP partner) visited Triple Eight Race Engineering's workshop to show HP MJF parts, "we were blown away with the part quality and strength, compared to what we were used to," Dutton said. "We realised we needed to have access to this technology to improve a whole host of components". This aligned with a broader discussion with HP and resulted in a joint partnership with EVOK3D, HP, and Triple Eight Race Engineering.
The team collaborated with HP 3D Printing and EVOK3D to produce three main pieces for the race car steering wheel: a two-part mold to form the soft polyurethane exterior that wraps around and cushions the steering wheel; lightweight cores that sandwich the armature plate and form the bulk of the steering wheel rim; and the housing for the mounting of switchgear and lights to the hub.
Triple Eight wanted to 3D print these pieces to accelerate the manufacturing process and allow for light-weighting and customisation to enhance driver ergonomics.
The design freedom that comes with using HP MJF technology has allowed Triple Eight to reduce the weight of the parts and customise the steering wheel grip based on the driver's anatomy. By tailoring the grip to the driver's individual needs, drivers can achieve better control of the vehicle, execute more precise steering inputs, and benefit from enhanced comfort.
For further information on how you can introduce HP Multi Jet Fusion 3D printing into your facility contact EVOK3D.
Image Provided