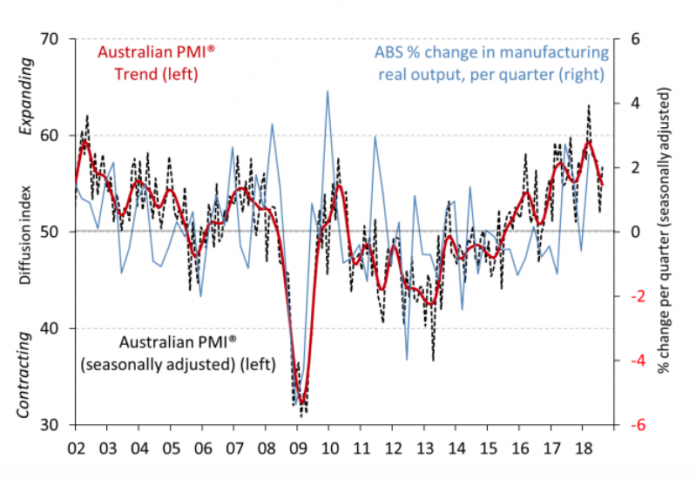 The Australian Industry Group Australian Performance of Manufacturing Index (Australian PMI) has recorded its third consecutive month of contraction, having slipped 2.9 points to 45.4 in January.
According to Ai Group's latest survey, six of the seven activity indices in the Australian PMI contracted in January, with exports the only index reporting stability (down 4.2 points to 49.8).
Production (down 3.5 points to 45.2), new orders (down 5.1 points to 43.7) and deliveries (down 8.4 points to 43.7) all contracted at a faster pace, suggesting weak business conditions for Australian manufacturers will continue into 2020.
The report also found that among the six manufacturing sectors in the Australian PMI, only food & beverages expanded in January (down 0.5 points to 60.3) while machinery & equipment was broadly stable (down 1.1 points to 49.0). All other sectors contracted at a faster rate than in December.
Further, the input prices index went up by 3.0 points to 61.9 in January and the selling prices index slowed a further 0.9 points to 46.6, with respondents in the metals and TCF, paper & printing sectors noting that fierce global competition is reducing their ability to increase selling prices.
The average wages, trending down since its recent mid-2018 peak, went up by 0.1 points to 55.2 in January, suggesting the index may be levelling out.
Commenting on the January readings, Ai Group Chief Executive Innes Willox said the start to 2020 was even slower than usual, given that January is traditionally the slowest month for Australian manufacturing.
"Australia's manufacturers are seeing a disappointing start to this new year and new decade. Activity, new orders, deliveries, sales and exports all slowed in the last months of 2019 and this has continued into January, affecting all segments of manufacturing," Mr Willox said.
"The combined impact of global trade disruptions, slow local consumption, the residential construction downturn, drought and the ongoing bushfire crisis are taking their toll on local production this summer.
"Drought and fire continue to disrupt activity, reduce demand and push up prices for key inputs for food processors and other manufacturing sectors."
According to Mr Willox, manufacturing is facing yet another new threat of global disruption and disaster, in the form of the coronavirus emerging from China.
"China and its Asian neighbours are key export markets for Australian food, beverages and other manufactured goods," he continued.
"The measures announced in response to the virus to date are timely and necessary, but they will likely dent demand for Australian manufactured exports in the short term.
"The resilience and flexibility of Australian manufacturers provides some comfort that they will be able to bounce back quickly, once trading conditions return to a more normal pattern of activity."
Image credit: www.aigroup.com.au