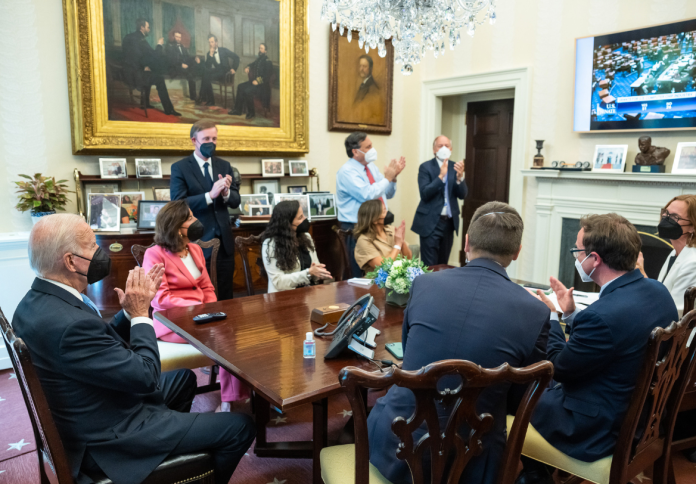 The US Senate has passed the Chips and Science Act of 2022 on a 64 to 33 bipartisan vote, sending the much-anticipated legislation to the House of Representatives for final approval. 
The legislation, which has been stalled in Congress for months, is part of the Biden administration's key priorities and provides an investment of approximately USD 52 billion in the manufacturing of U.S. semiconductors. 
Among its provisions, the Chips Act would provide a 25 per cent tax credit for companies that manufacture chip plants in the United States. 
Congress would also be required to increase investments in advanced technology research programs, which would help the country stay economically competitive in the decades ahead. 
The bill would invest $100 billion over five years for research and development activities in regional hubs across the country. The funding would also allow the US National Science Foundation to establish a new technology directorate. 
US Senator Chuck Schumer said in a press conference on Wednesday that the bill would create millions of good-paying jobs, lower costs, and keep the United States a leading nation in the world economy. 
In a Twitter post, US President Joe Biden described the bill's passage as a "really big deal." 
"The investment now in building more factories to make these chips is going to bring down the price of everything, from automobiles to everything across the board. But more importantly, it's going to create thousands of good-paying jobs. This is good news for America," Biden said. 
In a recent teleconference at the White House, Biden highlighted the United States' heavy reliance on Taiwan for the manufacturing of advanced chips. 
"America invented the semiconductor; it's time to bring it home. Doesn't mean others can't do it.  It's time we bring it home for all that we need for our security and our economic growth," the president said.