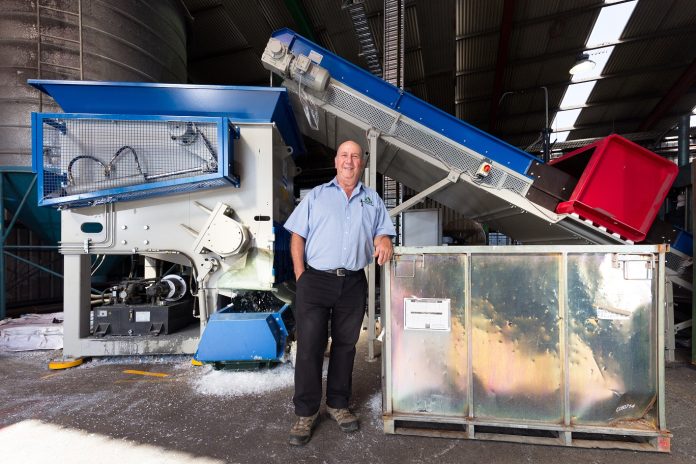 Media Release by Venlo Holdings
Innovative Australian design and manufacturing group Venlo Holdings (Venlo) has announced the acquisition of Brisbane-based plastic waste and recycling group Resitech, continuing its commitment to a circular economy.
Based in Wacol, Queensland, Resitech converts plastic waste into recycled resins for reuse in the manufacture of high-quality plastic products.
Venlo is the name behind some of Australia's most recognisable brands such as Plungie™ swimming pools, Evolve Group™ advanced manufacturing, BuildTuff™ construction systems, Poolrite™ pool equipment, TRED™ adventure products and more.
Venlo Managing Director Ty Hermans said the acquisition was a natural extension of the group's commitment to cutting-edge manufacturing techniques and world-class sustainability practices, aligning with its mission to improve Australia's low plastic capture and recycling rates.
"Venlo is already an Australian market leader in circular practices across all our brands with a core focus on designing products for circularity and decarbonisation," Mr Hermans said.
"This acquisition accelerates our circular economy ambitions and expands our fully vertically integrated, closed-loop recycling program for our businesses and customers to reuse, repair and recycle items.
"We intend to change Australia's recycling landscape and empower major retailers, such as Wesfarmers and Super Retail Group, to implement a truly sustainable solution."
Resitech converts Low-Density Polyethylene (LDPE), Linear Low-Density Polyethylene (LLDPE), High-Density Polyethylene (HDPE) and Polypropylene (PP) plastic waste into commercially viable plastic products for a range of industries, including the construction and built environment, agriculture, mining and advanced manufacturing sectors.
Resitech will enable Australian manufacturers to adopt higher recycled polymers usage rates, which Mr Hermans said would provide productivity gains to businesses, including Venlo's advanced manufacturing division Evolve Group.
"More than $3.1 billion of economic value is buried as plastic waste in Australia each year," Evolve Group CEO Paul Avey said.
"Resitech is on a mission to change that, and as a major consumer of plastic for manufacturing, Evolve is very pleased to be joining that journey."
Assistant Minister for Waste Reduction and Environmental Management, Trevor Evans MP, said Venlo's vision and commitment to local innovation, sustainable solutions and a circular approach to design and manufacturing strongly aligned with the Australian Government's National Waste Policy Action Plan.
"Australians currently recycle just 13% of our waste plastics which is just not good enough. That's why the Morrison Government is boosting plastic recycling outcomes through significant co-investments in new recycling and remanufacturing infrastructure under the federal government's Recycling Modernisation Fund (RMF)."
"I congratulate Venlo on playing their part in shifting the dial on plastic recycling outcomes in Queensland and supporting local jobs, and look forward to seeing further enhancements to Queensland's plastic recycling outcomes when the successful Queensland RMF projects are announced."
Mr Hermans said the Venlo group of brands and products had grown across multiple sectors enabled by a strategic approach to industry diversification, while supporting Australian jobs, fostering local innovation and promoting a circular economy.
"We design Australian-made products because we believe in being globally competitive, sovereign capable and contributing to the national economy," Mr Hermans said.
"Venlo is committed to sourcing materials through local supply chains and where those don't exist, we look for opportunities to support or develop new industries to create them."